DHSFW Grade III Non Technical Post Admit Card 2020 : dhs.assam.gov.in
Organisation : Directorate of Health Service (Department of Health and Family Welfare), Assam
Exam Name : Grade III Dresser, Store Keeper, Health Educator, Junior Assistant/ LDA, & Statistical Clerk Recruitment
Announcement : Admit Card
Exam Date : January 3, 2021
Website : https://dhs.assam.gov.in/
Want to comment on this post?

Go to bottom of this page.
DHSFW Grade III Admit Card
Directorate of Health Service (Department of Health and Family Welfare), Assam has released the admit card for the Grade III Dresser, Store Keeper, Health Educator, Junior Assistant/ LDA, & Statistical Clerk posts.
Related / Similar Admit Card : Assam Rifles Technical & Tradesman Exam Admit Card 2022

How To Download Admit Card?
Admit Cards for written examinations to be held on 03/01/2021 under the Directorate of Health Services, Assam / Directorate of Health Services (FW), Assam
Just follow the simple steps mentioned below to download the Admit Card for the Post of Non Technical.
Steps:
Step-1 : Go to the link 43.240.65.181/dhs_assam_grade_III_tech_nontech/index_main.php?r
Step-2 : Click on "Admit Card" link
Step-3 : Enter the "Application Number"
Step-4 : Enter the Date of Birth in the format DD/MM/YYYY.
Step-5 : Click on "Download" button.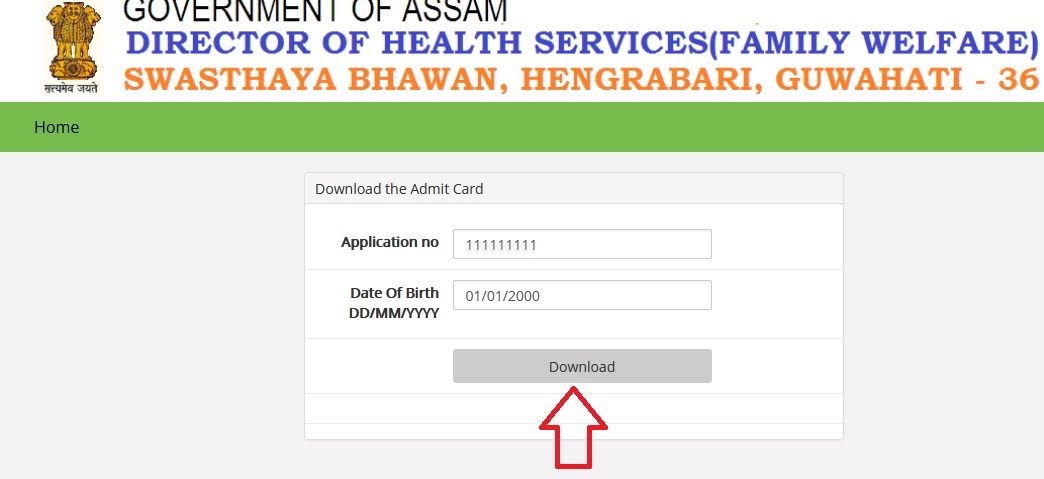 Contact
For only technical Query Please contact on 1800212005599 OR 08472880277. [MONDAY to SATURDAY :10A.M to 6P.M]
About the Department:
Directorate of Health Services, Assam is commited to provide preventive, promotive, curative,and quality health services at an affordable price to the people of Assam.Directorate of Health Services (DHS) has an important role in the provision and administration of health services and in order to raise the quality, extend accountability and deliver the services fairly, effectively and courteously.
The activities of the two heads of department have been enumerated below. The Inspector of General civil Hospital and Prisons was responsible for running of Hospitals at District and sub-divisional Headquarters of the state. The hospitals covers both outdoor and indoor services. Some dispensaries for extending outdoor treatment facilities also established under the Inspector General Civil Hospitals and prisons.
As for the curative side under the Director of Public Health, only preventive measures were undertaken on occurrences of epidemic, cholera, kalazar, small-pox, TB Leprosy etc.
Accounts Branch:
All matter relating to receipt & expenditure of fund including salary advance etc. of office Staff, sanction of NRA of GPF , Temporary advance of GPF etc. Verification of Pension file, Retd. Gazetted Officers Forwarding of GIS application of Gazzetted Officers and application of final withdrawal of GPF to Govt. for Sanction, pay bill of the staff any other account related matter.
Purchase Board:
Duty :- Issue & Notice Inviting tender and Bid document for purchases of Drugs and Pharmaceutical, Surgical and suture items, LLIN etc. and approval of the Items and other correspondence relating to purchases, release of earnest money, deeds of agreement against the approved items etc.