TNUSRB Admit Card 2020 : Police Constables/ Jail Warders/ Firemen Recruitment 2020
Organisation : Tamil Nadu Uniformed Services Recruitment Board (TNUSRB)
Recruitment Name : Gr.II Police Constables, Gr.II Jail Warders, Firemen Recruitment 2020
Announcement : Download Admit Card 2020
Exam Date : December 13, 2020
Website : https://tnusrbonline.org/
Want to comment on this post?

Go to bottom of this page.
TNUSRB Constable Admit Card
Admit Card for Gr.II Police Constables, Gr.II Jail Warders, Firemen Recruitment 2020 has released.
Related / Similar Admit card : Tamilnadu CM Fellowship Programme Admit Card 2022-24

The common recruitment exam will be conducted on December 13, 2020.
How To Download Admit Card?
Just follow the simple steps mentioned below to download the admit card.
Steps:
Step-1 : Go to the link https://www.tnusrb.tn.gov.in/
Step-2 : Enter the Login Credentials and
Step-3 : Download Admit Card.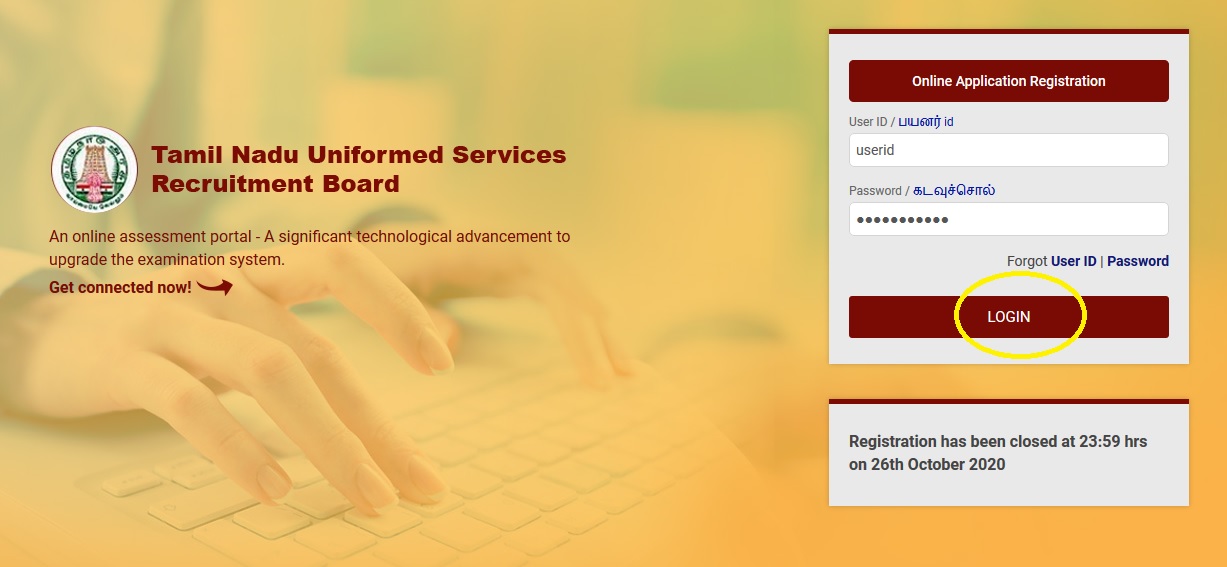 Details of Medical Examination Norms :
Rule 13: Qualifications:
No person shall be eligible for appointment to the service by direct recruitment unless he satisfies the appointing authority.
** that he is of sound health, active habits and free from any bodily defect or infirmity unfitting him for such service;
** that he does not have knock knees or bow legs or flat feet.
Rule 14: Special qualification:
No person shall be eligible for appointment to the class and category specified in column (1) of Annexure II to those rules unless he is of the age limit for appointment otherwise than by promotion "specified in column (2) and possesses the qualification prescribed in the corresponding entry in column (3) thereof.
ANNEXURE I (See rule 14 (a), Explanation III) Hearing good and no signs of ear disease. Speech without impediment No glandular swellings. Chest well formed and heart and lungs sound. No rupture in any degree or form. Free and perfect movement of all joints.
Feet and toes well formed and no tendency to flat feet. No congenital malformation or defects. No traces of previous acute or chronic disease pointing to impaired constitution. Teeth sound and sufficient for mastication Vision without glasses good with each eye and upto the standard indicated below:-
Directions for using the Test dot card:
1. Place the recruit with his/her back to the light and hold the test card perfectly upright in front of him at a measured distance of exactly three meters. The light should fall fully on the card.
2. Examine each eye separately. The eye not under trial should shaded by the hand o f an assistant, who will take care not to press on the eye ball.
3. Expose some of the dots not more than seven or eight at a time and desire the recruit to name their number and positions, vary the groups frequently to provide against deception.
Helpline
For Technical related queries 044 – 40016200
For Application Form Clarifications 044 – 28413658, 9499008445,9176243899,9789035725
For Payment related queries 044 – 25261266, 044 – 28308712
Please email us on support@tnusrbonline.org