RUHS Medical Officer Exam Admit Card 2020 : ruhsraj.org
Organisation : Rajasthan University of Health Science (RUHS)
Exam Name : Medical Officer (Medical) Direct Recruitment Examination 2020
Announcement : Download Admit Card
Exam Date : 12.07.2020
Website : http://ruhsraj.org/news/news.php?news_id=ZoiKmA%3D%3D
Want to comment on this post?

Go to bottom of this page.
RUHS MO Admit Card
Admit card for the post of Medical Officer (Medical) Direct Recruitment-2020.
Related / Similar Admit Card : RPSC AO/ARO Admit Card 2021

How To Download Admit Card ?
Just follow the simple steps mentioned below to download the admit card of Medical Officer Direct Recruitment 2020
Admit Card For Online Application Form
Login to download your admit card
Steps:
Step-1 : Go to the link http://recruitment.ruhsraj.org.in/momedical/clogin
Step-2 : Enter your Email ID
Step-3 : Enter your Password
Step-4 : Click on "Login" button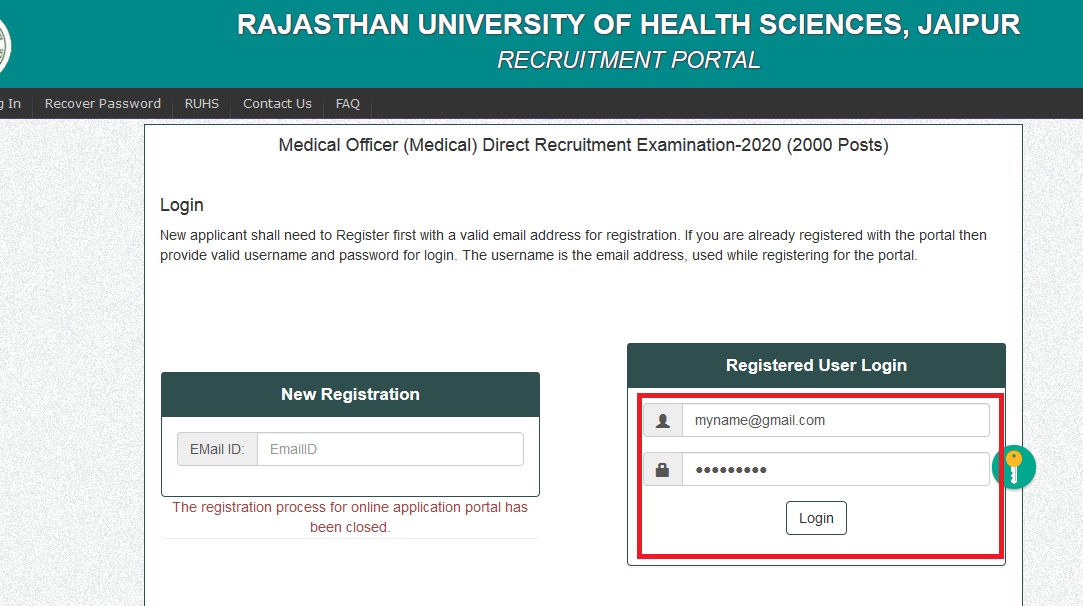 Admit Card For Offline Application Form
Admit card for offline application form only
Steps:
Step-1 : Go to the link http://recruitment.ruhsraj.org.in/momedical/oaclogin
Step-2 : Enter the Candidate Name
Step-3 : Ehter Father's Name
Step-4 : Enter the Date of Birth
Step-5 : Enter the Mobile Number
Step-6 : Click on " Download Admit Card" button.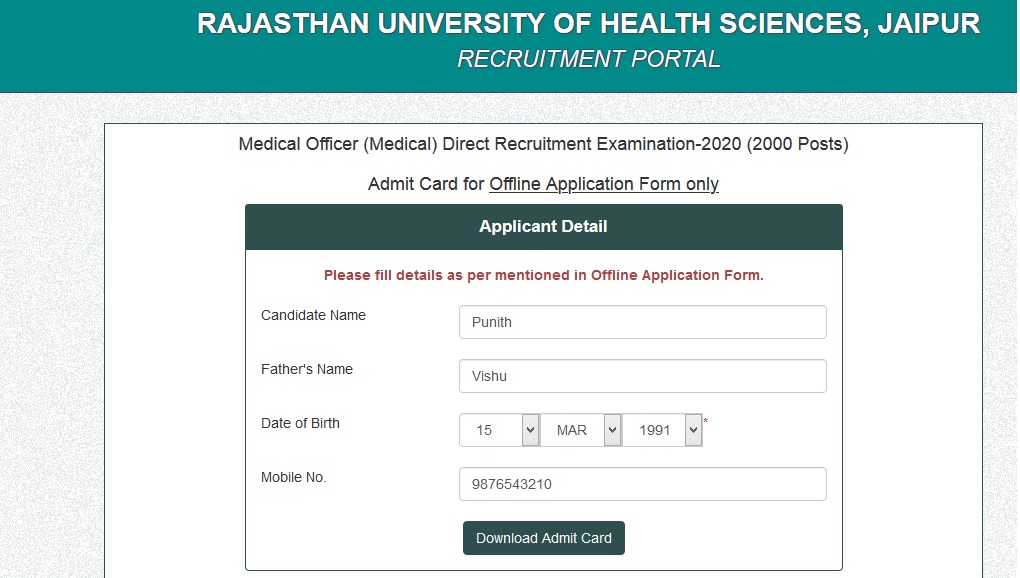 Syllabus:
The syllabus of the paper will include all subjects & topics covered in MBBS curriculum as per Medical Council of India.
Exam Pattern:
The on-line (computer based) examination of 120 minutes duration shall be held on 12.07.2020.There shall be 100 MULTIPLE CHOICE QUESTIONS OF ONE MARK EACH. THERE SHALL BE NO NEGATIVE MARKING
The on-line (computer based) examination shall be held in ENGLISH LANGUAGE.
Exam Centre:
The examination shall be held at JAIPUR. However, the RUHS reserves the right to create cities / centre(s) for examination and also to call the candidates for the examination at any city / centre. Other details relating to conduct of the examination shall be available at the RUHS website in due course.
Note:
RUHS reserves the right to alter and modify time and conditions laid down in the notification for conducting the various stages up to selection, duly intimating details thereof on the RUHS website, as warranted by any unforeseen circumstances arising during the course of this process, or as deemed necessary by the RUHS at any stage.
About RUHS:
Rajasthan University of Health Sciences (RUHS) was established under the Act of State Government" The Rajasthan University of Health Sciences Act, 2005″ (Act No. 1 of 2005)"on 25th day of February 2005. The University aims to disseminate and advance knowledge in medical and health sciences.
The University provides academic and research facilities in various streams to the students studying in various Government Colleges (Medical, Dental, Nursing, Pharmacy & Paramedical) and private colleges/institutions affiliated to this University. The University endeavors the process of making itself a leader in world-class medical education by focusing on the systemic instructions, teaching, training and research activities.
Contact
For any query related with downloading of Admit Card, please write us at momedical2020help@ruhsraj.org