AIMA MAT IBT Admit Card 2020 : Management Aptitude Internet Based Mode Test
Organisation : All India Management Association (AIMA)
Exam Name : Management Aptitude Test (MAT) 2020 Internet Based Mode (IBT)
Announcement : Download July 2020 IBT Admit Card
Exam Date : 04th & 05th July 2020
Website : https://mat.aima.in/may20/about-us
Want to comment on this post?

Go to bottom of this page.
AIMA MAT IBT Exam
Take MAT from your home! AIMA introduces Remote Proctored Internet Based Mode (IBT) for MAT. Now instead of going to a test centre candidates could appear for MAT from their homes.
Related / Similar Admit Card : AIMA MAT PBT/CBT Admit Card 2021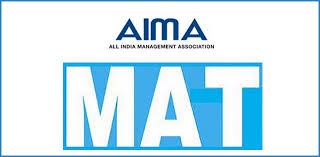 How To Download Admit Card?
Just follow the simple steps mentioned below to downlaod the admit acard of 04 & 05th July 2020 IBT exam
Steps:
Step-1 : Go to the link mat.aima.in/may20/admitcard-login
Step-2 : Select the "Exam Opted"
Step-3 : Enter the Registration Number.
Step-4 : Select the Date of Birth.
Step-5 : Click on "Submit" button.

Important Information
Admit Cards of only those candidates who have successfully completed their IBT registrations scheduled on 04 & 05 July 2020 are available.
Successful registration requires completion of all of the following steps:
** Online payment of full registration fee,
** Uploading of candidate's scanned photo & signature,
** Filling all the mandatory fields of Personal Particulars, Educational Qualifications, MI Choices and other information in the online registration form.
About MAT
Management Aptitude Test (MAT) is a standardised test being administered since 1988 to facilitate Business Schools (B-Schools) to screen candidates for admission to MBA and allied programmes. Govt. of India, Ministry of HRD approved MAT as a national level test in 2003.
Any B-School – national or international – can consider MAT Score as an admission input based on the Score Cards issued to the candidates. The largest test of its kind in the nation, MAT will continue to be your passport to over 600 B-Schools across India.
How To Take The Test?
Candidate can take MAT as
(i) Paper Based Test (PBT) or
(ii) Computer Based Test (CBT) or
(iii) Both PBT & CBT or
(iv) Remote Proctored Internet Based Test (IBT)
Note:
** Candidate can opt for both the tests i.e. PBT and CBT by paying an extra fees of rupees symbol1100/- in addition to rupees symbol1650/-.
** Candidates opting for both PBT and CBT will have the benefit of selecting additional 2 Management Institutes for sending their scores in addition to existing option of selecting 5 Management Institutes i.e. they can select 7 Management Institutes in total.
Salient Aspects of MAT:
** ISO/IEC 27001:2013 certified by Intertek with accreditation to UKAS and Quality Council of India.
** Entrance test for recognized programmes.
** Time tested over a decade.
** Validated through independent studies.
** Availed by lakhs of students.
** Accepted by hundreds of Institutes and University Departments.
** Employing latest technology in evaluation and result processing.
** Individual score card with candidate's photograph.
** Test Centres located all over the country.
Clarification
Candidates may clarify queries regarding MAT, if any, at e-mail: mat@aima.in and at 011-47673000/8130338839