AIMA MAT PBT/CBT Admit Card 2021 : Management Aptitude Test
Organisation : All India Management Association (AIMA)
Exam Name : Management Aptitude Test (MAT) 2021
Announcement : Download September 2021 PBT/CBT Admit Card
Exam Mode : Paper Based Test (PBT) and Computer Based Test (CBT)
Exam Date : 05th Sep 2021 (PBT) and 12th Sep 2021 (CBT)
Website : https://mat.aima.in/sep21/
Want to comment on this post?

Go to bottom of this page.
AIMA MAT Admit Card
All provisionally registered candidates for IBT/PBT/CBT have to download their Admit Card from AIMA website https://mat.aima.in/may22/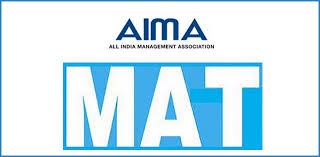 Admit Card contains Candidate's Name, Form No, Roll No, Test Date, Test Time and Test Venue Address. Candidate has to strictly follow the date and time allotted to him/her in the admit card.
How To Download Admit Card?
Just follow the simple steps mentioned below to download the admit card.
Step-1 : Go to the official website of AIMA
Step-2 : Click on the link "Download PBT Admit Cards" (or) Click Here https://mat.aima.in/sep21/admitcard-login?
Step-3 : Select the "Exam Opted"
Step-4 : Enter the Registration Number.
Step-5 : Select the Date of Birth.
Step-6 : Click on "Submit" button to download your admit card.

Test Cities
Test cities for Paper Based Test (PBT) and Computer Based Test (CBT) are different.
List of Participating Management Institutes:
Select the institutes where you have applied or are applying for admission.
Important Notice:
Candidates are advised to check the approval/recognition status of various programs directly from the concerned Authorities/ Institutes/ Universities.
AIMA has come across a couple of cases where the aspiring candidates' MAT score is not accepted by some participating institutes/universities for admission to MBA full time course despite their confirmation to AIMA MAT at the time of participation by incorporating their notifications in MAT e bulletin. Candidates are advised to recheck with the concerned institutes/universities before applying for MAT.
MAT Result
Availability of MAT Sep 21 Score on AIMA Website: 24 Sept 2021. Candidates have to download the MAT Score from AIMA website https://www.aima.in
Note:
MAT Score is acceptable even to certain other Institutes for considering admission of candidates for Post Graduate Degree / Diploma programmes, besides the above Institutes, subject to specific cut-off marks and other admission parameters.
Important Dates
PBT Detailed Schedule :
** Test Date: 05 Sep 2021 (Sunday)
** Last Date for Online Registration: 29 Aug 2021 (Sunday)
** Availablity of Admit Cards on the Website: 30 Aug 2021 (1600 Hrs)
CBT Detailed Schedule:
** Test Date: 12 Sep 2021 (Sunday)
** Last Date for Online Registration: 04 Sep 2021 (Saturday)
** Availablity of Admit Cards on the Website: 06 Sep 2021 (1600 Hrs)
Clarification
Candidates may clarify queries regarding MAT, if any, at e-mail: matibt@aima.in (for IBT) or matpbt@aima.in (for PBT/CBT) and Contact: 8130338839, 9599030586, 011-47673020 between 09:00 AM to 07:00 PM
Salient Aspects of MAT:
** ISO/IEC 27001:2013 certified by Intertek with accreditation to UKAS and Quality Council of India.
** Entrance test for recognized programmes.
** Time tested over a decade.
** Validated through independent studies.
** Availed by lakhs of students.
** Accepted by hundreds of Institutes and University Departments.
** Employing latest technology in evaluation and result processing.
** Individual score card with candidate's photograph.
** Test Centres located all over the country.