IIBF CAIIB Elective Examination Admit Card Download : Indian Institute of Banking & Finance
Organisation : Indian Institute of Banking and Finance
Announcement : IIBF CAIIB Admit Card Download
Examination : CAIIB/CAIIB Elective Examination
Date of Examination : 03 June 2018 – 17 June 2018
Issue Of Admit Cards : 02-06-2018
Home Page : http://www.iibf.org.in/AdmitLetters.asp
Want to comment on this post?

Go to bottom of this page.
IIBF CAIIB Elective Examination Admit Card
IIBF CAIIB Admit Card 2018 will be issued on the official website of the Indian Institute of Banking and Finance.
Related :  Dena Bank PO Admit Card 2018 : www.admitcard.net.in/7343.html 
** Candidates who will submit their online application form before or on the last date along with the application fee can get the admit card for the examination.
** All the details related to the exam will be mentioned on the admit card like the name of the candidates, roll no., date and time of the examination, venue of the exam.

How To Download Admit Card
Step 1 : Go to the official website, click on "Examination/Courses" tab in main menu,then click on "Admit Letter" option in drop down list

Step 2 : Admit Card page will be opened, click on "Admit Cards for CAIIB/CAIIB Elective June 2018 " link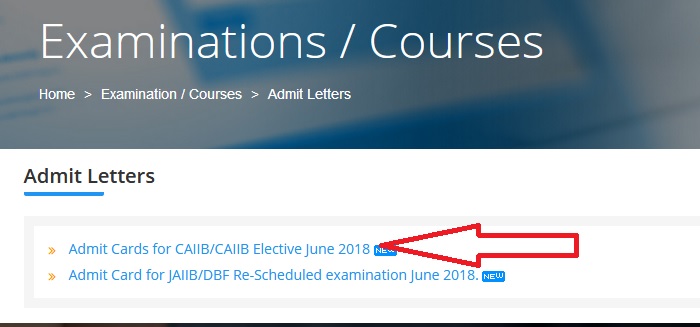 Step 3 : Next Page will be opened, click on "Admit Cards for CAIIB/CAIIB Elective June 2018" link, then enter the following details and get your admit card.

1. Enter your Membership No. * [259763]
2. Enter the exact characters you see in the picture *.
3. Click on "Submit" button.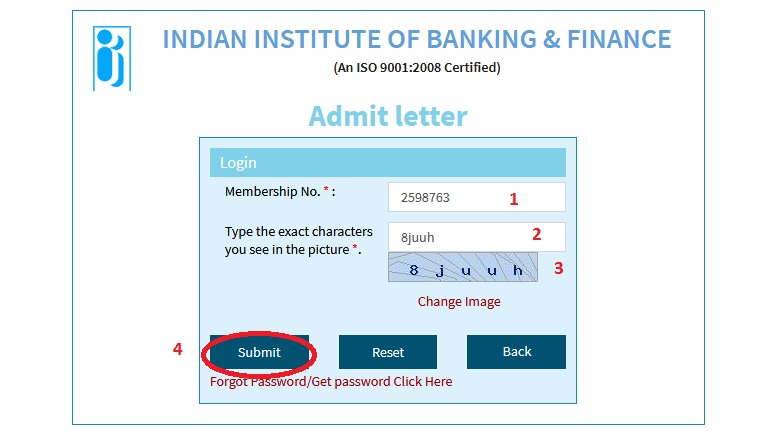 CAIIB/CAIIB Elective Examination – June 2018
This is to bring to the notice of candidates that due to certain unavoidable circumstances; venues/timing of examination for some candidates has been changed.
The details of venues which has been changed are as follows :
| | | |
| --- | --- | --- |
| Centre Name |  Venue Cd | Venue Name |
| Bidar (Change In Time) | 585403 | Guru Nanak Dev Engineering College, Mailoor Road, Bidar, Karnataka, 585403 |
| Dehradun (Venue Change) | 248009 | Dit University, Mussoorie-Diversion Road, Dehradun, Uttarakhand, 248009 |
| Dharwar (Venue Change) | 580001 | Nttf Technical Training Centre, Pune – Bangalore Road, Near Laxmi Theatre, Dharwar, Karnataka, 580001 |
| Khammam (Venue Change) | 507122 | Sree Kavitha Engineering College, Karepally Village/Mandal, Khammam Dist, Telangana, 507122 |
| New Delhi (Venue Change) | 110044c | Rsm Finserv Ltd, B-2/68, 1st Floor, Mohan Coperative Industrial Estate, Phase-2, Badarpur, Near Badarpur Metro New Delhi 110044 |
| Begusarai | 802301b | Bihar Rajya Computer Saksharta Mission, Near Kali Asthana Chowk, Opposite Water Tank, Begusarai, 802301 |
| Rohtak | 124001a | Lio Technologies, Scf-193, 1st & 2nd Floor, Huda Complex, Near New Telephone Exchange, Rohtak, 124001 |
For candidates whose venue/venue address and or timing of examination has been changed, institute has emailed the revised admit letter after re-allocating the venue/timing of examination to other venues.
Examination Date
Advanced Bank Management
03 June 2018
Bank Financial Management
10 June 2018
Corporate Banking
Rural Banking
International Banking
Retail Banking
Co-operative Banking
Financial Advising
Human Resources Management
Information Technology
Risk Management
Central Banking
Treasury Management
17 June 2018
Duration of Examination : 2 hours
Exam pattern
** Question Paper will contain 100 objective type multiple choice questions for 100 marks including questions based on case studies/case lets. The Institute may, however, vary the number of questions to be asked for a subject.
** The examination will be held in Online Mode only.
** There will NOT be negative marking for wrong answers.
Questions for the examination will be asked for :
** Knowledge testing
** Conceptual grasp
** Analytical/logical exposition
** Problem-solving
** Case analysis