Dena Bank PO Admit Card 2018 : denabank.com
Organisation : Dena Bank
Announcement : Download Admit Card/ Hall Ticket
Examination : post of PO Examination
Date of Examination : 02nd of June 2018
Admit Card Available on : 17 – 05 – 2018 to 02 – 06 – 2018
Home Page : https://www.bankofbaroda.in/about-us/amalgamation-migration/e-dena
Want to comment on this post?

Go to bottom of this page.
Dena Bank PO Admit Card
Dena Bank has released the call letter for the post of PO through Admission to Postgraduate Diploma in Banking and Finance Course (PGDBF). The Online written exam will be conducted on 02nd of June 2018.
Related : Dena Bank Interview Call Letter Specialist Officer : www.admitcard.net.in/6374.html 
Call letter for the examination for Admission to Post Graduate Diploma in Banking & Finance for Prospective Probationary Officers in the Bank – Link for downloading call letter
How To Download Call Letter
Go to the official website, click on the "Recruitment" tab in the home page

Next Screen will be opened, click on the "Please click on the link for downloading call- letter " link.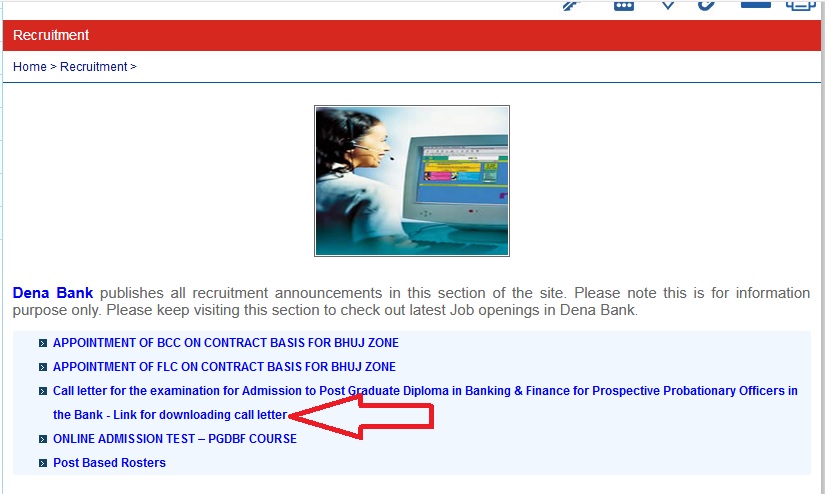 Download screen will be opened, Click on the "Download " link , next screen will be displayed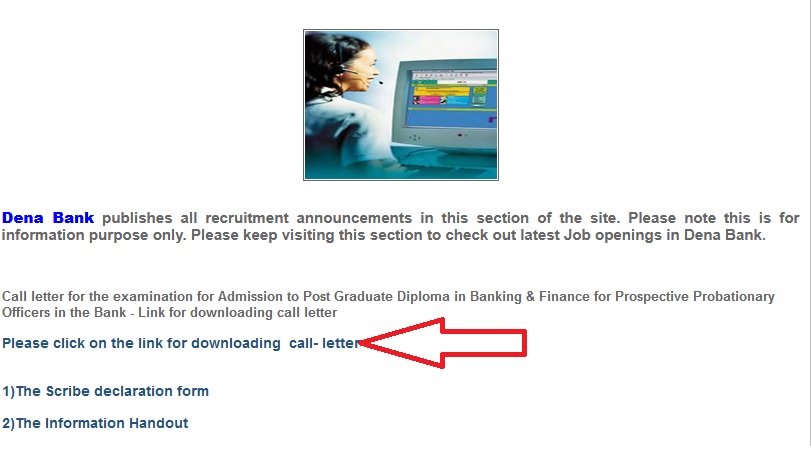 Admit Card download screen will be displayed enter the following details and get your admit card.

Steps :
Step 1 : Select Your Language
Step 2 : Enter Your Register No./ Roll.No
Step 3 : Enter Your Password/DOB [DD/MM/YYYY]
Step 4 : Enter Captcha Code [ches5]
Step 5 : Click on login button.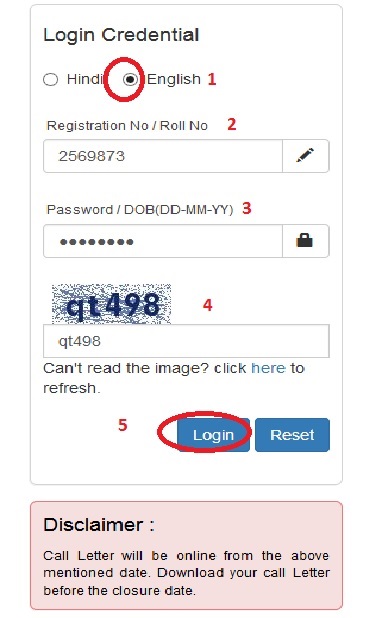 After login, candidates will be able to download and print the admit card.
Candidates are advised to check all the details mentioned in the admit card thoroughly and must take a print out of the admit card preferably a colored one.
Exam Pattern
Examination will consist of Objective Tests for 200 marks and Descriptive Test for 50 marks. Both the Objective and Descriptive Tests will be online.
Sr.No
Name of the Test
No.Of.Questions
Max.Marks
Type
Medium of Exam
Duration
1
Reasoning
50
50

Objective Type

Bilingual
120 minutes
2
English Language
50
50
English
3
General Awareness

(with special reference to

Banking Industry)

50
50
Bilingual
4
Quantitative Aptitude
50
50
Bilingual
5
English Language
50
50
Descriptive
English
30 minutes
Sample Question
Below are given some sample questions for the objective type tests.
Reasoning
Following are the questions based on analogy.
1. "Foot" is related to "Man" in the same way as "Hoof" is related to –––––
(1) Leg
(2) Horse
(3) Dog
(4) Boy
(5) Shoe
2. In each of the following questions, there is a group of letters or words given. Four of the five are alike in a certain way, while one is different. Find out the one which is different.
(1) black
(2) red
(3) green
(4) yellow
(5) paint
English
Directions : Pick out the most appropriate word from amongst the words given below each sentence to complete it meaningfully.
1. He quickly glanced ………………………… the book to find what it said about the Indian economy.
(1) at
(2) through
(3) in
(4) to
(5) over
2. The counsel urged the court to ……………………… down the obnoxious law.
(1) enact
(2) enforce
(3) cancel
(4) strike
(5) declare
General Awareness
1. To combat the menace of money laundering, which of the following financial institutions has introduced the 'Know Your Customer' Scheme ?
(1) SBI
(2) RBI
(3) NABARD
(4) SIDBI
(5) Other than those given as options
2. Which of the following sectors contributes maximum in deciding the growth in income of the states in India ?
(1) Energy
(2) Tourism
(3) Service
(4) Transport
(5) Agriculture
Quantitative Aptitude
Q.21. 42 + 73 + 137 = ?
(1) 352
(2) 252
(3) 242
(4) 142
(5) Other than those given as options
At 10 rupees each, how much will 6 lemons cost ?
(1) 6
(2) 10
(3) 60
(4) 61
(5) 610