National Eligibility Cum Entrance Test (NEET UG) Admit Card 2022
Organisation : National Testing Agency (NTA)
Exam Name : National Eligibility Cum Entrance Test (NEET UG) 2022
Announcement : Download Admit Card
Admit Card Date : 12th July 2022
Exam Date : 17th July 2022
Website : https://neet.nta.nic.in/
Want to comment on this post?

Go to bottom of this page.
What is NTA NEET UG Exam?
The Ministry of Education (MoE), Government of India (GoI) has established the National Testing Agency (NTA) as an independent, autonomous, and self-sustained premier testing organization under the Societies Registration Act (1860) for conducting efficient, transparent, and international standardized tests in order to assess the competency of candidates for admission to premier higher education institutions with a mission to improve equity and quality in education by developing and administering research-based valid, reliable, efficient, transparent, fair and international level assessments.
Related / Similar Admit Card : FSSAI Various Post Stage II Exam Admit Card 2022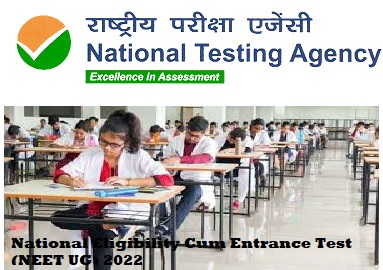 How To Download NTA NEET UG Exam Admit Card?
To Download NTA NEET UG Exam Admit Card, Follow the below steps
Step-1 : Go to the link https://examinationservices.nic.in/neet2022/DownloadAdmitCard/LoginDOB.aspx?enc=WPJ5WSCVWOMNiXoyyomJgATm16WDSuAdfwpi7ZXy4cM3hblcyDpJgf1oyFFZyuBY
Step-2 : Enter the Application Number
Step-3 : Select the Date of Birth
Step-4 : Enter the Security Pin
Step-5 : Click on Submit button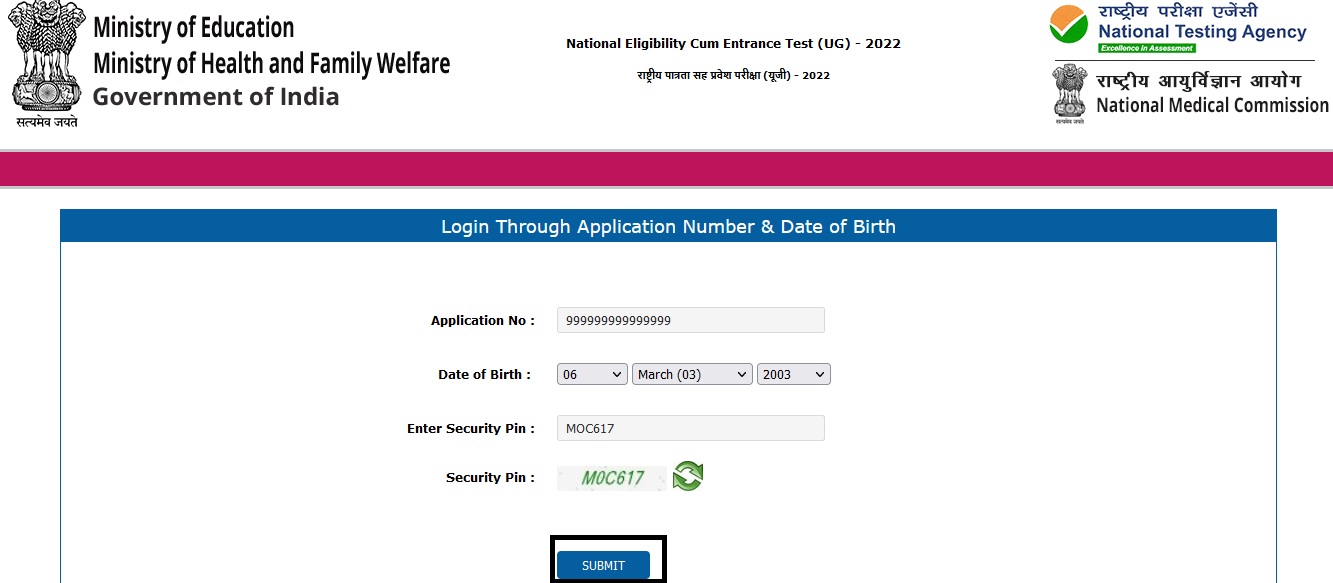 NTA NEET UG Exam Details
The NTA NEET UG Exam Details are given below,
1. National Testing Agency will conduct the National Eligibility cum Entrance Test (UG) for 1872341 candidates at different Centres located in 497 Cities throughout the country including 14 Cities Outside India on 17 July 2022 (Sunday) from 02:00 P.M. to 05:20 P.M. (Indian Standard Time)
2. To facilitate the candidates appearing for NEET (UG) – 2022, Advance Intimation of Examination City where the Examination Centre will be located has already been shared on 28 June 2022
3. NTA has received a few representations regarding Change of Examination City.
4. Those representations have been examined and their Examination City has been changed wherever feasible and possible.
Mode of NTA NEET UG Exam
**NEET (UG) – 2022 is a Pen & Paper-based Test, to be answered on the specially designed machine gradable OMR sheet using Ball Point Pen provided at the Centre.
**Moreover tampering with the OMR at any stage will lead to debarring of the candidature for 3 years.
Duration of NTA NEET UG Exam
The duration of the NTA NEET UG Exam would be three 03 hours and 20 minutes.
Test Pattern of NTA NEET UG Exam
**The Test pattern of NEET (UG) – 2022 comprises four Subjects.
**Each subject will consist of two sections.
**Section A will consist of 35 Questions and Section B will have 15 Questions, out of these 15 Questions, candidates can choose to attempt any 10 Questions.
**So, the total number of questions and utilization of time will remain the same.
**The pattern for the NEET (UG) – 2022 Examination for admission in the Session 2022-23 is as follows
What are the important date for NTA NEET UG Exam?
The important date for NTA NEET UG Exam are given below,
Admit Card Date : 12th July 2022
Exam Date : 17th July 2022