BEML Management Trainees Admit Card 2022 : bemlindia.in
Organisation : Bharat Earth Movers Limited
Exam Name : BEML Management Trainees Recruitment 2022
Announcement : Download Admit Card
Admit Card Date : 28th June 2022
Exam Date : 12th July 2022
Website : https://www.bemlindia.in/
Want to comment on this post?

Go to bottom of this page.
How To Download BEML Management Trainees Admit Card?
To Download BEML Management Trainees Admit Card, Follow the below step
Step 1: Go to the link https://exmegov.com/login
Step 2: Select Advertisement
Step 3: Enter Registration No
Step 4: Enter Password
Step 5: Click on Download Admit Card.
Related / Similar Admit Card : IISER Aptitude Test Admit Card 2022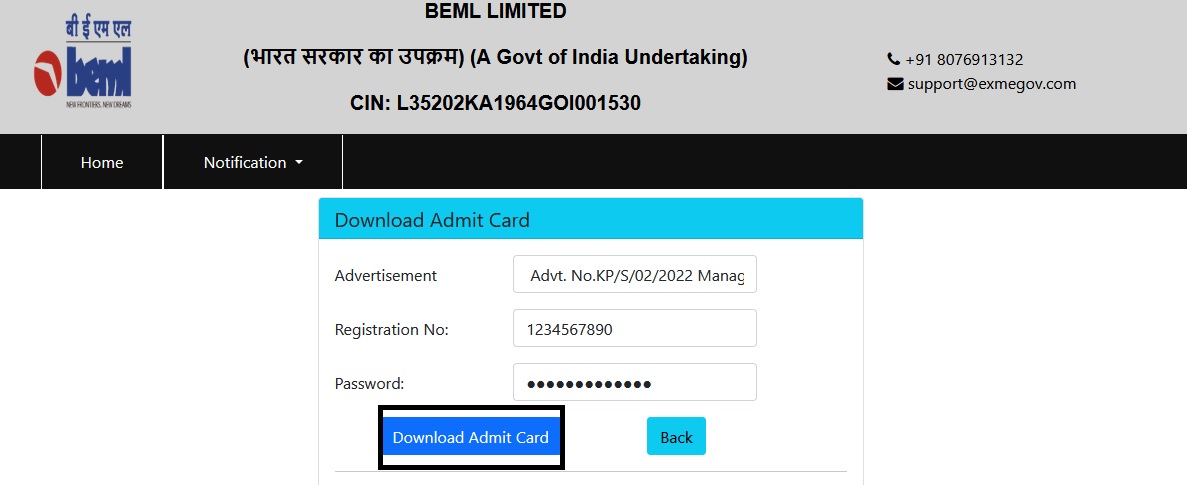 What is BEML Management Trainees Exam?
BEML Limited, pioneer of indigenously manufactured equipment & a flag-bearer of India's
Engineering Sector, supplies global standard products to multi-Sectors such as Defence &
Aerospace, Mining & Construction, Rail & Metro, is known for its competitiveness, in-house R&D,
cost effective & creative solutions to the customers. We are looking for Young, result-oriented, self-driven Engineering Professionals with deep learning
abilities to be engaged as Management Trainees for R&D Facilities across various Manufacturing
Units, Marketing Regional & Head Offices, located all over India.
FAQ on BEML Management Trainees Exam
Frequently Asked Question FAQ on BEML Management Trainees Exam are given below,
1. How much do management trainees earn?
Management Trainee salary in India ranges between ₹ 2.0 Lakhs to ₹ 15.0 Lakhs with an average annual salary of ₹ 5.1 Lakhs. Salary estimates are based on 17k salaries received from Management Trainees.
2. What is the work for management trainee?
A management trainee works under the supervision of managers and executives in organizations. Their goal is to acquire all essential knowledge to become future managers, often in particular fields, such as marketing, sales, or operations.
3. Is Beml a government company?
BEML Limited – A Glimpse
The Company has partially disinvested and presently Government of India owns 54 percent of total equity and rest 46 percent is held by Public, Financial Institutions, Foreign Institutional Investors, Banks and Employees.
4. What is management trainee qualification?
Management Trainee requirements and qualifications
Minimum of a Bachelor's Degree in Business or Management. Minimum of X years of experience in a management role. Proficiency in MS Office. Knowledge of current industry trends. Excellent management skills.
5. How long is a management trainee program?
Well, a more practical pathway is to consider becoming a management trainee. This program, offered by companies, usually lasts between one and two years and allows a fresh grad to experience the nuts and bolts of an organization's operations.
6. What's a trainee position?
Trainee jobs are typically entry-level positions where people learn the duties and skills necessary to work independently. As a trainee, you work under a more experienced worker or a supervisor whose job it is to provide new employees with professional development.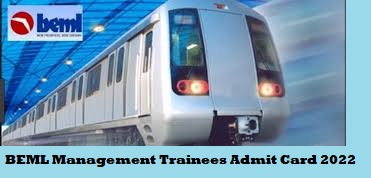 7. What is the next position after trainee?
They are confirmed as Engineer / Sr. Engineer without any probation period depending on the company's hiring / confirmation policy… Some companies also have a policy of 6 months probation period after the successful completion of the training period.
What are the important date of BEML MT Exam?
The important date of BEML Management Exam are given below,
Admit Card Date : 28th June 2022
Exam Date : 12th July 2022