NCDC Assistant Director Admit Card 2021 : National Cooperative Development Corporation
Organisation : National Cooperative Development Corporation (NCDC)
Exam Name : Junior Assistant, Senior Assistant, Programme Officer, Assistant Director and Deputy Director Recruitment 2021
Announcement : Admit Card 2021
Exam Dates : 26th June 2021 and 27th June 2021
Website : https://www.ncdc.in/
Want to comment on this post?

Go to bottom of this page.
NCDC Admit Card
National Cooperative Development Corporation (NCDC) has released the admit card for Junior Assistant, Senior Assistant, Programme Officer, Assistant Director and Deputy Director Recruitment exam 2021
Related / Similar Admit Card : NLC India Health Inspector Exam 2021 Call Letter

How To Download Admit Card?
Just follow the simple steps mentioned below to download the admit card.
Step-1 : Go to the link https://cdn.digialm.com//EForms/configuredHtml/1258/69526/login.html
Step-2 : Enter the User ID
Step-3 : Enter the Password
Step-4 : Click on "Login" button to download the admit card.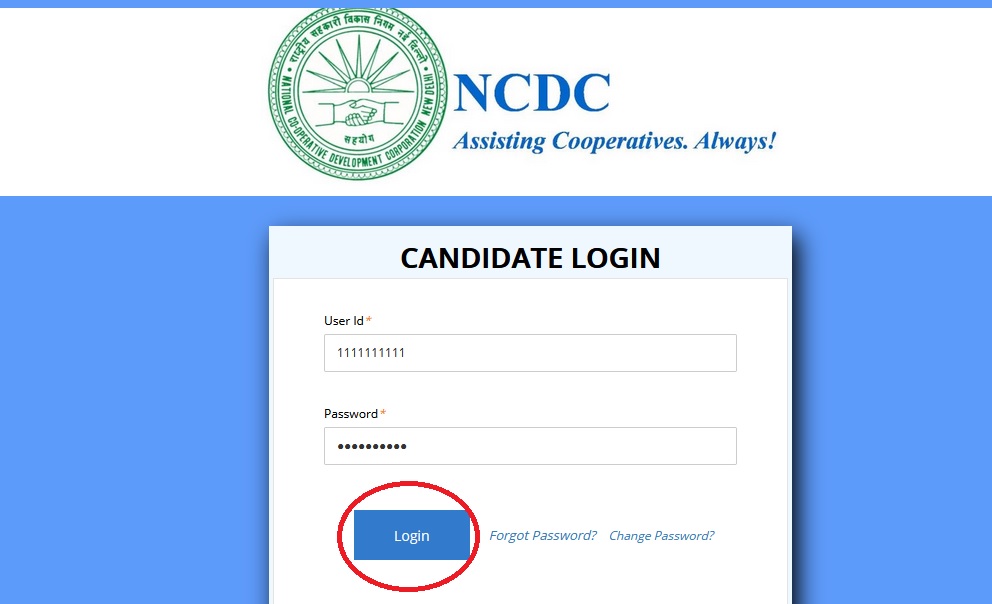 NCDC Exam Date
NCDC Exam for the said posts will be held on 26 June 2021 and 27 June 2021
Instructions
1. The examination will be conducted in shifts at scheduled time mentioned in E-admit Cards.Candidates have to report one and half hour before the commencement of examination for face recognition and frisking at test centres.
2. Link to download e-admit cards will be made available shortly on the NCDC website viz.www.ncdc.in. Information with regard to E-Admit card will also be sent to the registered E-Mail lds/Mobile No. of candidates. No separate admit card shall be lent through post to the candidates.
3. Non-Receipt of E-Admit card link/ Discrepancies, if any, in E-Admit card should be reported to Recruitment Help Desk relt o22-6L3o6268 and Email: ncdchelpdesk202l@smail.comon or before 24o June, 2021 for redressal of grievances.
4. In case grievance w. r. t. particulars i.e., Name, Date of Birth, category, sub-category any admit card related query, etc. as mentioned in online application is not resolved, then the candidate is advised to personally report on 25.06.202L at the 'Facilitation Counter' at Cities of Examination (details of facilitation counter will be displayed on the NCDC website subsequently)from 2.00 PM to 4.00 PM with copies of documentary proofs i.e., copy of online application form, certificate, testimonials, etc along with two (02) passport/stamp size photographs and photo identity card so that necessary corrections are made.
About NCDC:
The National Cooperative Development Corporation (NCDC) was established by an Act of Parliament in 1963 as a statutory Corporation under the Ministry of Agriculture & Farmers Welfare.
Planning, promoting and financing programmes for production, processing, marketing, storage, export and import of agricultural produce, food stuffs, certain other notified commodities e.g. fertilisers, insecticides, agricultural machinery, lac, soap, kerosene oil, textile, rubber etc., supply of consumer goods and collection, processing, marketing, storage and export of minor forest produce through cooperatives, besides income generating stream of activities such as poultry, dairy, fishery, sericulture, handloom etc.