UPSSSC Junior Assistant Admit Card For CET/ PET/ Typing/ Steno Exam 2021
Organisation : Uttar Pradesh Subordinate Service Selection Commission (UPSSSC)
Exam Name : Junior Assistant Recruitment 2021
Announcement : Admit Card For CET / PET / Typing / Steno Exam
Exam Date : 13-23 January 2021
Website : http://upsssc.gov.in/Default.aspx
Want to comment on this post?

Go to bottom of this page.
UPSSSC Junior Assistant Admit Card
Download Admit Card For The Intrim Examination CET / PET / Typing / Steno
Related / Similar Admit Card :
UPPSC PCS ACF, RFO Mains Admit Card 2021

How To Download Admit Card?
Enter the personal details (exactly same as entered in UPSSSC Application Form) and click on the " Download Admit Card " button.
Steps:
Step-1 : Go to the link http://upsssc.gov.in/Online_App/AdmitCard.aspx?ID=INTRIM
Step-2 : Enter the Candidate Registration Number
Step-3 : Enter the Date of Birth in the format (DD/MM/YYYY)
Step-4 : Select the Gender
Step-5 : Enter the Verification Code and
Step-6 : Submit the 'Download Admit Card' button.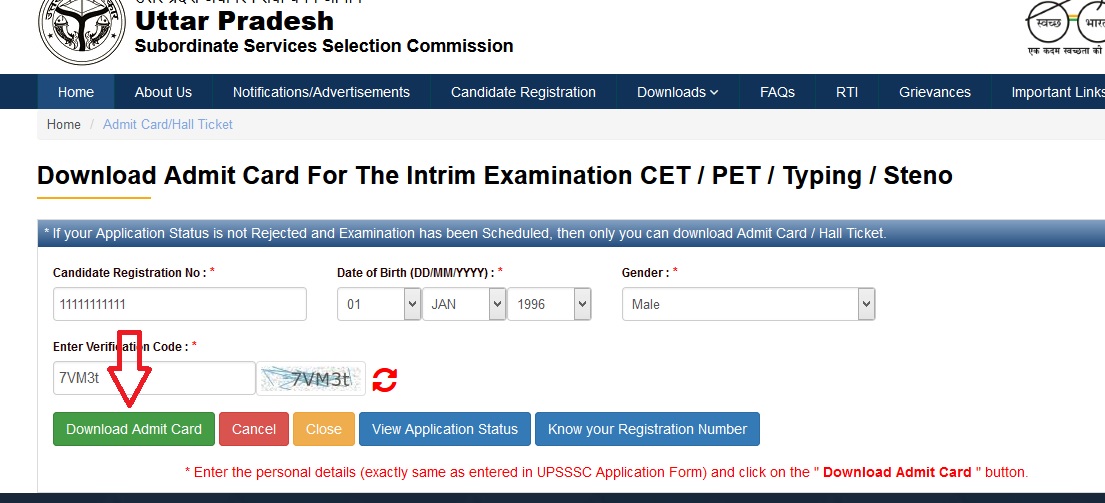 Note:
If your Application Status is not Rejected and Examination has been Scheduled, then only you can download Admit Card / Hall Ticket.
About UPSSSC:
Initially, the State Government of Uttar Pradesh established a Subordinate Services Selection Board through an Ordinance in 1988 which was later on replaced by an act No.7 of 1988, for direct recruitment to all such group 'C' posts as may be specified by the State Government by notification in this behalf.
The Board was also allowed to consider the request of any authority, Government Company or Corporation, owned or controlled by the Government for such recruitment to posts thereunder. The Board had a corporate entity separate from the Government.
Subsequently in 1990 on 31st May above Board was dissolved and converted in to a Commission with a Chairman and maximum of five members. Further the Uttar Pradesh Subordinate Services Selection Commission (Amendment) Act, 1993 was promulgated to define/vary service conditions of the Chairman and the members of the Commission. By this amendment the commission was converted into a Department of the Government.
In year 1997 on December 28, above act was repealed by an ordinance and which was later on replaced by an Act N0.5 of 1998. Uttar Pradesh Subordinate Services selection commission was established again by U.P. Act No.1 of 2006. But this Act was repealed by U.P. ordinance no.6 of 2007 and later by an Act no. 21 of 2007.
Realising the difficulty in recruitment on Group 'C' posts in the administrative departments of the State by the Uttar Pradesh Public service commission due to increased pressure on its working, the present Commission was established again by "the Uttar Pradesh Subordinate Services Selection commission Act, 2014" which came in force on June 20, 2014.
On the resignation of then Chairman and five of its members on 6th April, 2017, present Commission was reconstituted and incumbent Chairman and members joined the Commission in later half of January, 2018.