IBPS Clerk X Preliminary Exam Call Letter Online 2020
Organisation : Institute of Banking Personnel Selection (IBPS)
Exam Name : Clerk X Recruitment 2020
Announcement : Online Preliminary Exam Call Letter
Exam Date : 05-13 December 2020
Website : https://ibps.in/
Want to comment on this post?

Go to bottom of this page.
IBPS Clerk X Pre Exam Call Letter
Online Preliminary Exam Call Letters of Clerk X Recruitment 2020 are available now.
Related / Similar Admit Card : IBPS Clerk XI Pre Exam Admit Card 2021

How To Download Call Letter?
Just follow the simple steps mentioned below to download the Call Letter for Clerk X Pre Exam 2020.
Steps:
Step-1 : Go to the link ibpsonline.ibps.in/crpcl10aug20/clopea_nov20/login.php?appid=8441c4db83bfd4cb74a638edb0c45736
Step-2 : Select the Language option
Step-3 : Enter the Registration Number (or) Roll Number
Step-4 : Enter the Date of Birth in the format (DD-MM-YY)
Step-5 : Enter the Captcha and
Step-6 : Click on the "Login" button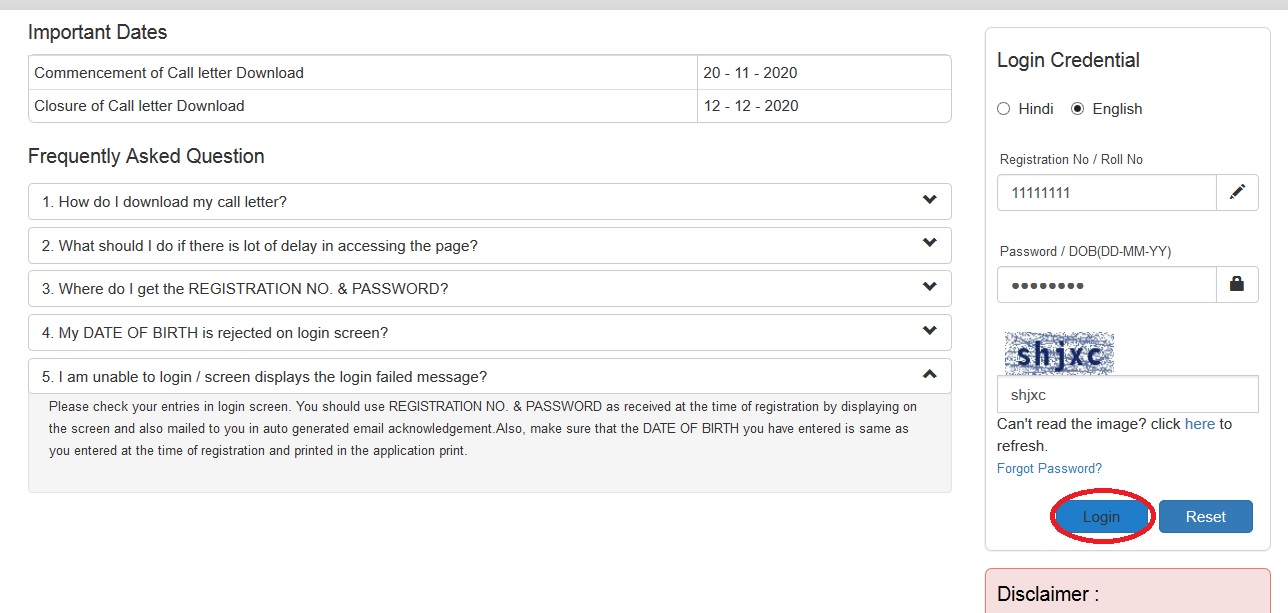 Disclaimer :
Call Letter will be online from the above mentioned date. Download your call Letter before the closure date.
FAQs
1) How do I download my call letter?
Follow the link from organisation website to download call letter. At login page, enter the Registration No / Roll No and Password / DOB(dd-mm-yy) at the required places to download the Call Letter.
2) What should I do if there is a lot of delay in accessing the page?
Internet based Call letter download depends on various factors like Internet Speed, large number of Applicants trying to download the Call Letter at the same time etc. Therefore, if you are not able to download the Call Letter immediately, please retry after a gap of 5 minutes or during off-peak hours during the night.
3) Where do I get the Registration Number and Password?
Registration No. & Password are generated at the time of registration and displayed on the screen. These are also sent to the candidate immediately upon successful registration, by way of auto generated email acknowledgement, at the email address registered by him.
4) My Date of Birth is rejected on login screen?
Candidate should ensure that the DATE OF BIRTH is same as he had entered at the time of registration. Candidate can refer the APPLICATION PRINT for the DATE OF BIRTH entered by him. The date of Birth should be entered in DD-MM-YY format.
5) I am unable to Login/screen displays the login failed message?
Please check your entries in login screen. You should use REGISTRATION NO. & PASSWORD as received at the time of registration by displaying on the screen and also mailed to you in auto generated email acknowledgement.Also, make sure that the DATE OF BIRTH you have entered is same as you entered at the time of registration and printed in the application print.
Important Dates
Commencement of Call letter Download 20 – 11 – 2020
Closure of Call letter Download 12 – 12 – 2020