IOCL Call Letter 2020 : Junior Engineer & Quality Control Analyst Recruitment
Organisation : Indian Oil Corporation Limited (IOCL)
Exam Name : Junior Engineer & Quality Control Analyst Recruitment 2020
Announcement : Admit Card/ Call Letter
Exam Date : 29th November 2020
Website : https://iocl.com/
Want to comment on this post?

Go to bottom of this page.
IOCL Junior Engineer Call Letter
Call letters for Adv. No. PR/P/45(2020-2021) are now available. Shortlisted candidates can download their call letters by following the below steps.
Related / Similar Admit Card : IOCL Pipelines Apprentice Admit Card 2020

How To Download Call Letter?
Just follow the simple steps mentioned below to download the Call Letter
Steps:
Step-1 : Go to the link https://www.iocrefrecruit.in/iocrefrecruit/index.aspx#downloads
Step-2 : Enter your Application Number
Step-3 : Enter your Date of Birth
Step-4 : Enter the Captcha and
Step-5 : Click on respective link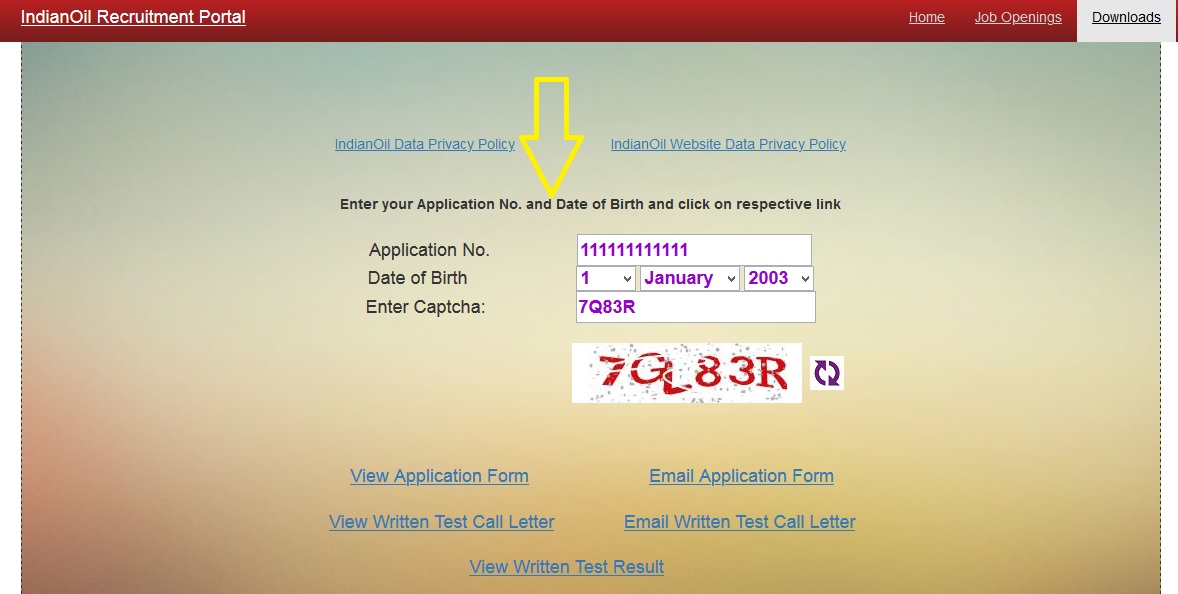 IndianOil Data Privacy Policy:
Information Sharing And Disclosure IOCL may disclose the Information to any of its Agents or Third Parties insofar as reasonably necessary for the purposes set out in this Policy and for the purpose of providing services/products to the Data Subject.
Such Agents and Third Parties are expected to provide a similar level of protection to the Information as is adhered to by IOCL. In addition to this, IOCL may disclose the Information where it is required to do so by law or to Governmental Agencies
The Information is processed by IOCL in strict accordance with the Indian Information Technology Act, 2000, and the rules notified thereunder. IOCL implements and maintain 'Reasonable Security Practices and Procedures' as stated in the Indian Information Technology Act, 2000 and the Information Technology [Reasonable Security Practices and Procedures and Sensitive Personal Data or Information] Rules, 2011, while processing, collecting, storing or handling any Information.
Unless stated otherwise, IOCL stores and processes the Information in India. There may, however, be occasions when IOCL needs to transfer the Information outside India for its business requirements. In such instances, IOCL will exercise the same level of care in handling the Information as it does in India.
Data Subject can contact IOCL, through the Grievance Officer whose details are provided at the end of the Policy, requesting access to Data Subject's Information for reviewing or requesting amendment to certain information that Data Subject considers to be incorrect or wrong.
IOCL shall process such requests from Data Subject in accordance with applicable law. IOCL shall not be responsible for the authenticity of the Information provided by the Data Subject to IOCL or its Agents
Personal Information of a Data Subject collected by IOCL under this Policy shall hereinafter be referred to as "Information". Such Information includes, interalia, Sensitive Personal Data or Information as defined under the Indian Information Technology Act, 2000 and the Aadhaar number and/or the biometric information associated with an Aadhaar number.