mpsos.nic.in August 2020 Admit Card Ruk Jana Nahi Yojna Class 10th & 12th Exam : Madhya Pradesh State Open School
Organisation : Madhya Pradesh State Open School (MPSOS)
Exam Name : Ruk Jana Nahi Yojna Class 10th & 12th Exam August 2020
Announcement : Download Admit Card
Exam Date : August/ September 2020
Website : http://www.mpsos.nic.in/
Want to comment on this post?

Go to bottom of this page.
MPSOS August Exam Admit Card
Admit Cards for Ruk Jana Nahi Yojna Class 10th & 12th are available now.

How To Download Admit Card?
Just follow the simple steps mentioned below to download the Admit Card of Ruk Jana Nahi Yojna Class 10th & 12th August Exams 2020.
Steps:
Step-1 : Go to the below links https://mpsos.mponline.gov.in/#/admitcard
Step-2 : Enter your Login Credentials and
Step-3 : Download Your Admit Card.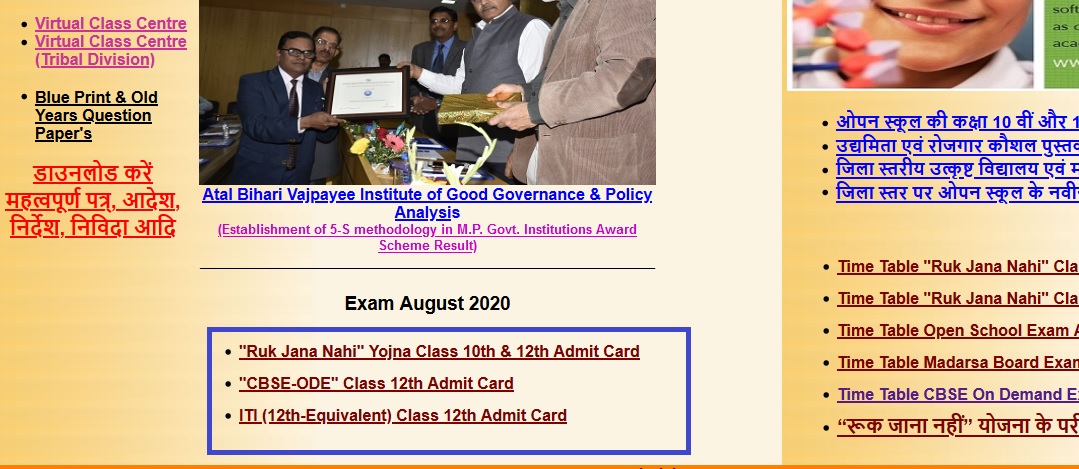 Ruk Jana Nahi Yojna Exam
MP open board onducted the class 10th exams under 'Ruk Jana Nahi' yojana twice a year. One in the month of June as well as in the month of December. MPSOS 10th Ruk Jana Nahi exam will start from August 17 and will end on August 26, 2020. The first paper will be conducted for General Language – Urdu and Sanskrit.
Instructions
** Students should follow the norms of social distancing at the exam centre.
** It is advised to reach the examination centre at least an hour before the exam timings
** Cell phones, calculators, watch, alarm clocks, and other electronic gadgets are not allowed inside the exam hall.
About MPSOS:
The Madhya Pradesh State Open School (MPSOS) was established in 28th March, 1995 as an autonomous organization in purpose of National Policy on Education 1986 by the Ministry of Human Resource Development (MHRD), Government of India.
MPSOS is providing a number of vocational, Life Enrichment and community oriented courses besides General and Academic Courses at Secondary and Senior Secondary level. It also offers Elementary level Courses through its Open Basic Education Programmes (OBE).
Government of India through a gazette notification vested MPSOS with the authority to examine and certify learners registered with it upto pre degree level courses. All the syllabus apply of conduction meeting on 31st July 1996.