LSAG India LSAT 2020 Admit Card Law School Admission Test : discoverlaw.in
Organisation : LSAG India
Exam Name : LSAT Law School Admission Test 2020
Announcement : LSAT 2020 Admit Card
Exam Date : July 19-22, 2020
Website : https://www.discoverlaw.in/
Want to comment on this post?

Go to bottom of this page.
LSAT Exam
The LSAT India is a premier admissions test for LL.B. and LL.M programmes at Indian law colleges. It tests the critical thinking skills that are essential to success in law school.

LSAT Admit Card
Admit Card for LSAT 2020 is available now.
How To Download Admit Card?
Just follow the simple steps mentioned below to download the admit card of LSAT 2020
Steps:
Step-1: Go to the link
Step-2 : Click on the "Login" button.
Step-3 : Enter your "Login" Credentials and
Step-4 : Submit the "Login" button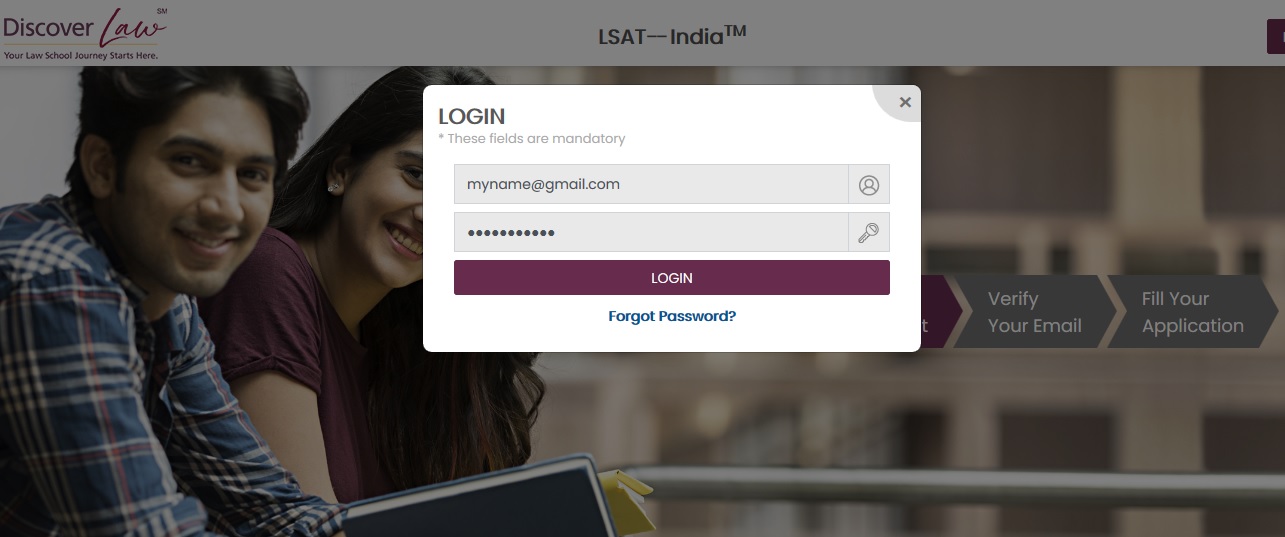 Before Test Day:
** Check your computer/laptop to make sure it will work on test day.
** Download the secure browser and go through the system verification procedure as per the System Readiness Check email sent to you between 01 – 6 July.
** Get your Admit Card and test application password from the Registration Dashboard.
** Make sure you have an acceptable photo ID from the permissible ID list (also available in FAQ section).
Before starting the Test on Test Day:
** Prepare your workspace. Clear your work space from all prohibited items—including mobile phones.
** Make sure you have adequate lighting so that your face will be adequately lit when sitting at your computer/laptop.
** Make sure you have your photo ID on hand.
** Note that you MAY have two pieces of unmarked blank paper for scratch work along with pencil.
** Familiarise yourself with all the test rules and rules regarding misconduct.
During the Test:
** Log in to your test ON TIME. Latecomers will not be permitted to test and will not be rescheduled.
** Once you click your photo with ID, be patient as a proctor verifies your identity. This could take 10-15 minutes.
** You must Accept the conditions on the Instructions page in order to start the test.
** If you decline, you will not be permitted to test and will not be offered reschedule.
** Read all of the instructions on the Instructions page, including about how to navigate, highlight text, strikeout text, and submit your test.
** You should have reviewed these already on the Mock test you took earlier.
** Do not leave your seat during the test, speak aloud, or allow others into the room. Keep your face in the video frame on your screen at all times.
** Do not wear headphones, earphones, headsets, etc.
System/Technical Requirements:
Note that Mac OS Computers, iOS devices, and Android devices are not supported on the testing application.
You should have secured access to a personal computer with the following as a minimum:
** Windows 8 or above Operating System
** 2 GB or more RAM
** Dual Core / i3 or above processor
** Attached or integrated working Camera
** User account should have administrator privileges to install applications
** Internet with consistent speed (as equivalent to browsing)
** Supported web browser – Chrome (Ver 80 or above), Firefox (Ver 75 or above);
** Unsupported Web Browser-IE & Microsoft Edge15 GB or more of free disk space
Also ensure the following:
** Allow the camera to access the video capture during the exam process.
** Disable pop-up blockers of your web browser.
** Have an updated Antivirus installed.
** End all web sharing applications like Skype, Team Viewer, MS Teams, Zoom, GoToMeeting, ShareIt, Webex, etc. from Windows Task Manager.
Contact
We're here to help. If you have questions or comments, please email us at DiscoverLawIndia@LSAC.org, and we will connect with you at the next available opportunity.