cee.kerala.gov.in KEAM Admit Card 2020 : Kerala Engineering Architecture & Medical Exam
Organisation : Commissioner For Entrance Examinations (CEE)
Exam Name : Kerala Engineering Architecture and Medical (KEAM) Entrance Exam
Announcement : KEAM Admit Card 2020
Exam Date : 16th July 2020
Website : https://www.cee.kerala.gov.in/main.php
Want to comment on this post?

Go to bottom of this page.
CEE KEAM Admit Card
The Commissioner for Entrance Examinations (CEE), Kerala has released the admit card for Kerala Engineering Architecture and Medical (KEAM) 2020
Related / Similar Admit Card : Kerala Legislative Assembly K-LAMPS (PS) Written Examination 2023 Download Hall Ticket

KEAM 2020 is due to be held on July 16, 2020. KEAM hall ticket is released for courses like B.Tech (Agriculture Engineering), B.Tech (Dairy Technology), B.Pharm, B.Tech (Food Technology) etc.
How To Download Admit Card?
Just follow the simple steps mentioned below to download the admit card of KEAM 2020
Steps:
Step-1 : Go to the link https://cee.kerala.gov.in/main.php
Step-2 : Enter your Application Number, Password & Access Code to Login
Step-3 : After Login, you can find the result in your Profile Page.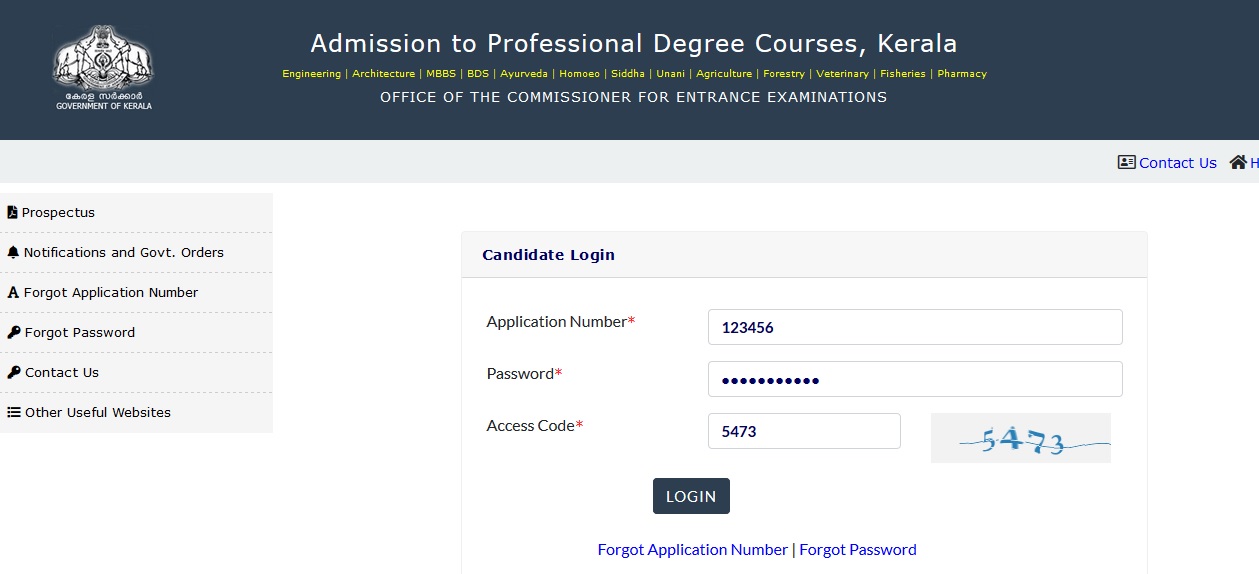 About KEAM:
Kerala Engineering Architecture Medical is an entrance examination series for admissions to various professional degree courses in the state of Kerala, India. It is conducted by the Office of the Commissioner of Entrance Exams run by the Government of Kerala
Engineering Courses:
Students are tested on topics of Physics, Chemistry and Mathematics taught in the 11th and 12th grade of Kerala State Education Board and similar boards, and national boards such as Central Board of Secondary Education and Indian Certificate of Secondary Education. The entrance exam consists of two parts; Part I is Mathematics and Part II is Physics and Chemistry.
Medical Courses:
This is similar to the Medical Entrance Tests conducted by AIIMS, And NEET.
Architectural Courses:
Architectural courses, according to the Office of the Commissioner of Entrance Examinations, Kerala, as in clause 1.4b of the prospectus[2], are ranked based on National Aptitude Test in Architecture (NATA), conducted by the National Institute of Advanced Studies in Architecture (NIASA) as per directives of the Council of Architecture, India.
Ranking :
The method of ranking has changed since its conception in 2006. In 2009, a new method of ranking students was proposed and put into practice in 2011 where the scores of the students in the entrance test and the scores of students in the 12th standard examinations conducted by ICSE, CBSE, Kerala State board, Other State board examinations was considered.
The scores are then normalized to a set standard and then students are given a rank based on both the scores for the 12th grade examinations and common entrance examinations
Helpline Numbers
CEE Help Line Numbers (10:00 AM to 5:00 PM)
0471-2525300 Citizen Call Centre (24 Hours Help Line Numbers)
0471 – 155300 (From BSNL Only)
0471-2115054, 2115098, 2335523 (From All Networks)