AIBE XII All India Bar Examination Admit Card 2018 : Council of India
Organisation : Bar Council of India
Announcement : AIBE XII Admit Card Released
Examination : All India Bar Examination
Date of Examination : 10th June, 2018
Issue Of Admit Cards : 29th May, 2018
Home Page : http://www.allindiabarexamination.com/
Want to comment on this post?

Go to bottom of this page.
AIBE XII All India Bar Examination Admit Card
AIBE (12) Admit Card 2019 has been released on 29th May 2018. AIBE (All India Bar Examination) is administered by the Bar Council of India (BCI).

** It is a national level examination conducts for candidates, those passed the law degree & wish to do practice in the respective field.
** BCI will provide the "Certificate of Practice" to the candidates after qualifying the AIBE (12) exam.
** This examination is conducted in 11 different languages across 40 cities of the country.
How To Download Admit Card
Candidates can get the AIBE admit card 2019 only through online mode from the website.
Step 1 : Go to the official website,click on "AIBE XII Admit Card" link

Step 2 : Login Page will be opened, Enter the following details and get your admit card.
1. Enter Your Registration Number
2. Enter Your Date of Birth
3. Click on "Submit" button,get your card displayed on the screen.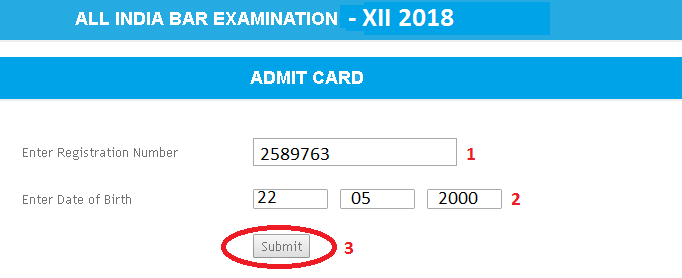 Step 4 : Now, you can download the admit card. Click on the print button and take a printout of the admit card.
AIBE Admit Card Details
The admit card is comprised of the candidates basic & exam details:
** Candidate Name
** Roll Number
** Gender
** Category
** Sub-Category
** Photograph
** Signature
** Address of Exam Center
** Exam Timing
** Exam Date
** City
** Exam Instructions
Document Required on Exam :
** Candidates must bring the valid admit card along with one photo ID proof.
** It is compulsory to have a valid admit card to sit in the examination centre.
** Candidates are advised to read all the instructions given on back side of the admit card.
Important Dates
 Activity
Important Dates
Online registration begins from
09th March, 2018*
Bank payment through challan starts
10th March, 2018*
from
Online registration closes
15th May, 2018* at 5:00 pm
Last date for payment of challan for
16th May, 2018*
online registration
Last date for completion of online form
17th May,2018*
Last date for completion of incomplete
22nd May, 2018* 5:00 pm
form (if any)
Online release of admit cards
29th May, 2018*
Date of Examination
10th June, 2018*
Exam Pattern
Mode of Exam :
** The AIBE entrance exam will be held through offline mode (OMR).
Duration of Exam :
** The total duration of the exam will be 3 hours and 30 minutes.
** The candidates with 80% and more disability will be alotted extra 30 minutes.
** The Multiple Choice Questions (MCQ) will be asked in the examination.
** The complete questions paper will be of total 100 marks.
** There is no negative marking in the examination.
Language :
** It will be conducted in 11 languages from which candidate can choose any one of them.
Syllabus for AIBE XII
** The questions will be prepared from 20 subjects. These subjects will be divided into category-I and category-II.
** Each subject of category-I will contain 7 questions and Category-II subjects will contain 23 questions.
| | | |
| --- | --- | --- |
| S. No. | Topic/Subject | No. of Questions |
| 1. | Limitation Act | 2 |
| 2. | Corporate Social Responsibility | 2 |
| 3. | Family Law | 2 |
| 4. | Jurisprudence | 3 |
| 5. | Administration Law | 3 |
| 6. | Professional Ethics& Cases of Professional misconduct under B.C.I rules | 4 |
| 7. | ADR + Arbitration Act | 4 |
| 8. | Company Law (2013) | 4 |
| 9. | Constitutional Law | 5 |
| 10. | Environmental Law | 5 |
| 11. | C.P.C | 5 |
| 12. | Public International Law | 5 |
| 13. | Cyber Law | 5 |
| 14. | I.P.C | 6 |
| 15. | Labour + Industrial Law | 6 |
| 16. | Law of Tort, including Motor Vehicle Accidents and Consumer Protection Law | 6 |
| 17. | Evidence | 8 |
| 18. | Cr. P.C | 10 |
| 19. | Law of Contract, Specific Relief, Prop Laws, Spl Contract N.I Act | 15 |
| | Total | 100 |