JKSPDC Admit Card 2018 : Jammu and Kashmir State Power Development Corporation
Organisation : Jammu and Kashmir State Power Development Corporation (KKSPDC)
Announcement : JKSPDC Admit Card
Examination : JKSPDC Recruitment Examination
Date of Examination : 18 June 2018
Issue Of Admit Cards : 26th May 2018 onwards
Home Page : http://www.jkspdc.nic.in/
Want to comment on this post?

Go to bottom of this page.
JKSPDC Admit Card Download
Jammu and Kashmir State Power Development Corporation recruitment admit card will be releasedd. A Total of 173 Posts were announced, out of which, 90 Posts are for Jr. Engineer (Civil), while the remaining posts are distributed for various other categories of posts, which includes, Jr. Engineers (Other streams), Jr. Assistant, Draftsman etc.
Related : Jammu & Kashmir Public Service Commission Download Admit Card 2016 Medical Officer MO : www.admitcard.net.in/5937.html
JKSPDC has also released the Admit Cards for these Exams scheduled to start from 18th June, 2018. JKSPDC is conducting the Exam through CBT, as well as Pen Paper Mode.
How To Download Admit Card
Step 1 : Go to the JKSPDC Official website, click on "Admit Download" tab in home page.

Step 2 : Next page will be opened, Enter the following details and get your admit card.
Steps :
1. Enter your Reference Number
2. Enter your Date of Birth
3. Enter captcha code shown in image
4. Click on "Login" button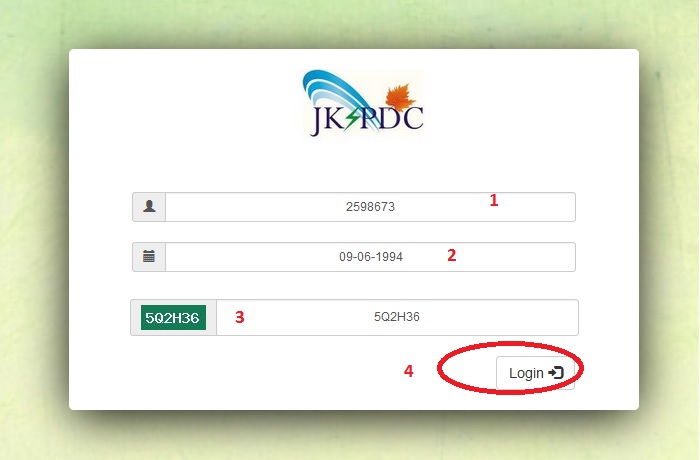 Step 3 : On the next page, your admit card will be displayed.
Step 4 : On the top right corner, click the "Print" icon and take a color printout of the admit card.
Step 5 : Log out from the Admit Card Portal.
Note :
a. Registration Number of all candidates has been made available on the JKSPDC website.
b. No change whatsoever shall be allowed in the Admit Card Details under any circumstances.
c. No requests for change of centre shall be entertained.
Revised Exam Calendar
PnP Exam :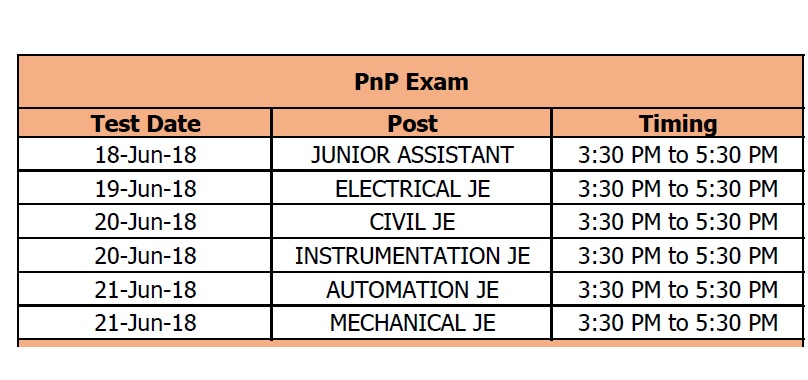 CBT Exam :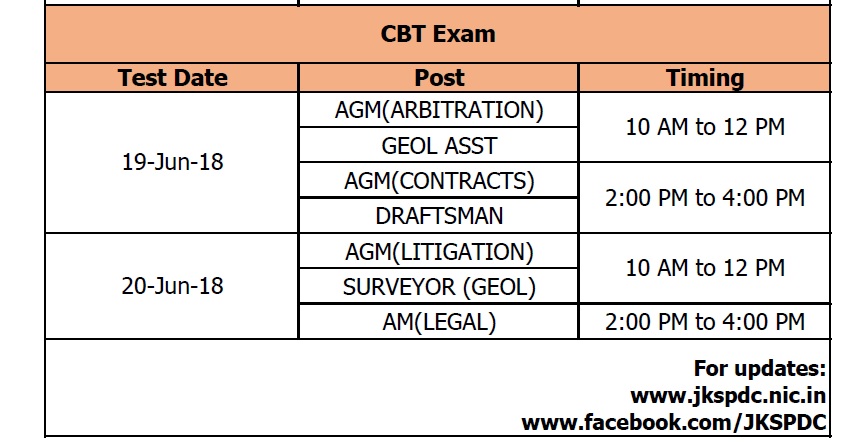 Scheme of Examination
S. NO
Examination Type
Subjects
No. of

Questions

Marks
Duration
1

Multiple Choice

Questions

General Intelligence and

Reasoning

20
20
2 Hrs

General Awareness
Common to all disciples
2
Discipline oriented
80
80
As per the Official JKSPDC JE Syllabus, you are supposed to have decent reasoning and knowledge of Current affairs and General Knowledge.
Syllabus
General Intelligence & Reasoning: 15 Marks
General Awareness: 05 Marks
A. Civil Engineering :
1. Building Materials: 05Marks
2. Estimating, Costing, And Valuation: 05 Marks
3. Surveying: 05 Marks
4. Soil Mechanics: 10 Marks
5. Hydraulics: 10 Marks
6. Construction Equipment, Planning And Management : 05Marks
7. Irrigation Engineering: 05Marks
8. Water Power Engineering: 10Marks
9. Structural Engineering: 10 Marks
10. Concrete Technology: 05 Marks
B. Electrical Engineering :
1. Electric Circuits: 20 Marks
2. Control Systems: 05 Marks
3. Electrical and Electronic Measurements: 05 Marks
4. Analog & Digital Electronics: 07 Marks
5. Power Electronics and Drives 07 Marks
C.Mechanical Engineering :
1. Theory of Machines and Machine Design: 10 Marks
2. Engineering Mechanics and Strength of Materials: 20 Marks
3. Thermal Engineering and Refrigeration & Air-conditioning: 12 Marks
4. Fluid Mechanics & Machinery: 12 Marks
5. Material Science & Production Engineering: 10 Marks
D. Instrumentation Engineering
1. Basics of Circuits and Measurement Systems: 05 Marks
2. Transducers, Mechanical Measurement and Industrial Instrumentation: 05 Marks
3. Analog Electronics: 10 Marks
4. Digital Electronics: 10 Marks
5. Signals and Systems: 05 Marks
E. Automation Engineering
1.Computer Controlled Systems: 10 Marks
2. Process Control & Automation: 12 Marks
3.SCADA Systems And Applications: 12 Marks
4. Electric Circuits: 10 Marks
5. Control Systems: 06 Marks