DSSSB Download Admit Card 2019 Grade-II DASS Examination : Delhi Subordinate Services Selection Board
Name of the Organisation : Delhi Subordinate Services Selection Board DSSSB
Type of Announcement : Download Admit Card
Designation : Grade-II (DASS) Examination -2019
Exam Date : 11.11.2019 to 29.11.2019
Dow : https://cdn.digialm.com//EForms/configuredHtml/1258/63014/login.html
Want to comment on this post?

Go to bottom of this page.
DSSSB Grade II Exam Admit Card
Download admit card for the online CBT Exam For The Post Code 3/19, 4/19, 72/14, 6/19, 87/14, 12/17, 48/15 AND 81/17 (GRADE II DASS)
Related: DSSSB Admit Card Head Constable, Forest Guard : www.admitcard.net.in/426.html
How to Download?
Just follow the below steps to download your admit card for Grade-II (DASS) Examination -2019.
Steps :
Step 1 : Go to the official website of Delhi Subordinate Services Selection Board DSSSB through provided above.
Step 2 : Then click on the link "DOWNLOAD ADMIT CARD FOR THE ONLINE CBT EXAM FOR THE POST CODE 3/19, 4/19, 72/14, 6/19, 87/14, 12/17, 48/15 AND 81/17 (GRADE II DASS) "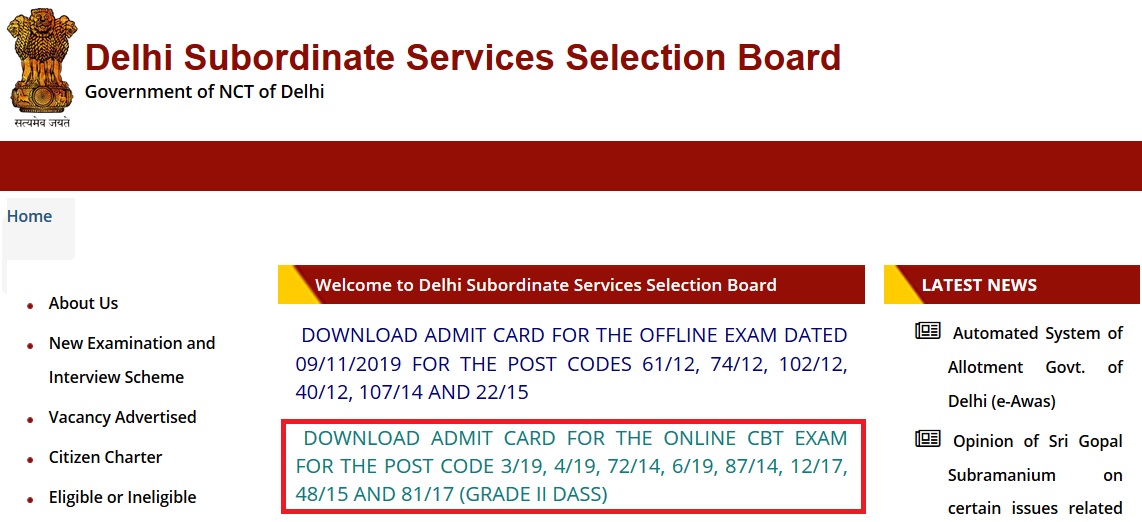 Step 3 : Enter Your Application Number
Step 4 : Enter your Date of Birth(DD/MM/YYYY)
Step 5 : Click on the "Login" button
Step 6 : Download the Admit Card & Take a Print Out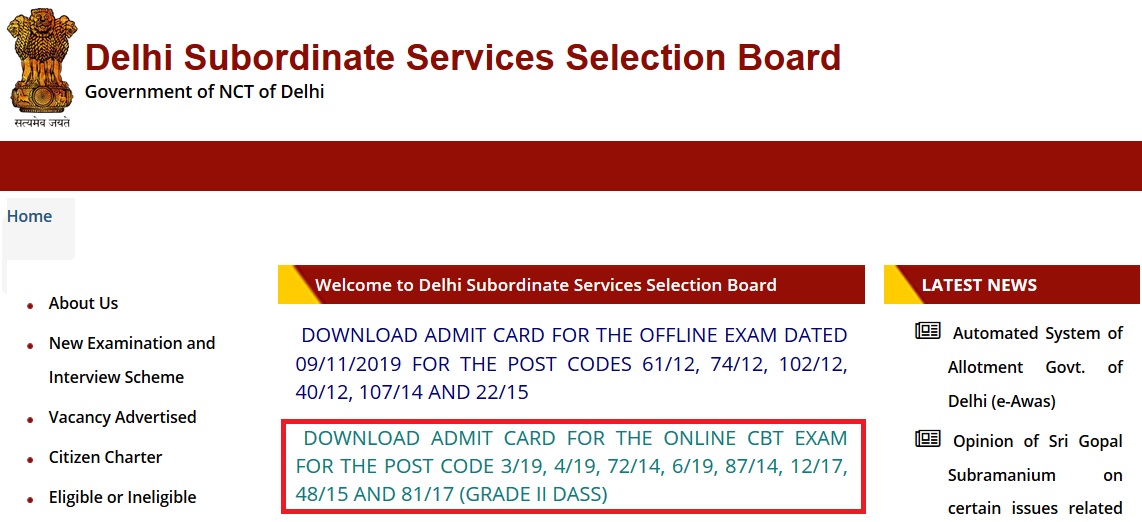 Exam Details
Delhi Subordinate Staff Selection Commission has going to conduct the Examination for the DASS Grade II Post. The Examination will be held on 11.11.2019 to 29.11.2019.
About Us :
On the 50th Anniversary year of the Indian Independence, the Government of National Capital Territory of Delhi has instituted the Delhi Subordinate Services Selection Board.
The Board has been incorporated with the purpose of recruiting capable, competent, highly skilled individuals by conducting written tests, professional tests and personal interviews wherever as desired.
The Board shall hereby committed to develop selection and recruitment procedures that confirm to the global standards in testing, and promise selections by all fair means, of the most competent, capable, and skilled individuals for user departments.