RRB CBT Group D Phase I Exam Admit Card 2022
Organisation : Railway Recruitment Board (RRB)
Exam Name : RRB CBT Group D Recruitment 2019
Announcement : Download RRB CBT Group D Phase I Exam Admit Card 2022
Admit Card Date : 13th August, 2022
Phase I Exam Date : 17th to 25th August, 2022
Phase II Exam Date : 26th August, 2022 to 08th September, 2022
Website : https://www.rrbchennai.gov.in/
Want to comment on this post?

Go to bottom of this page.
How To Download RRB Group D Phase I Exam Admit Card?
To Download RRB CBT Group D Phase I Exam Admit Card, Follow the steps given below
Step 1: Go to the link https://dc4-g22.digialm.com/EForms/configuredHtml/2667/68658/login.html
Step 2: Enter Registration Number
Step 3: Enter Date of Birth
Step 4: Click on Login.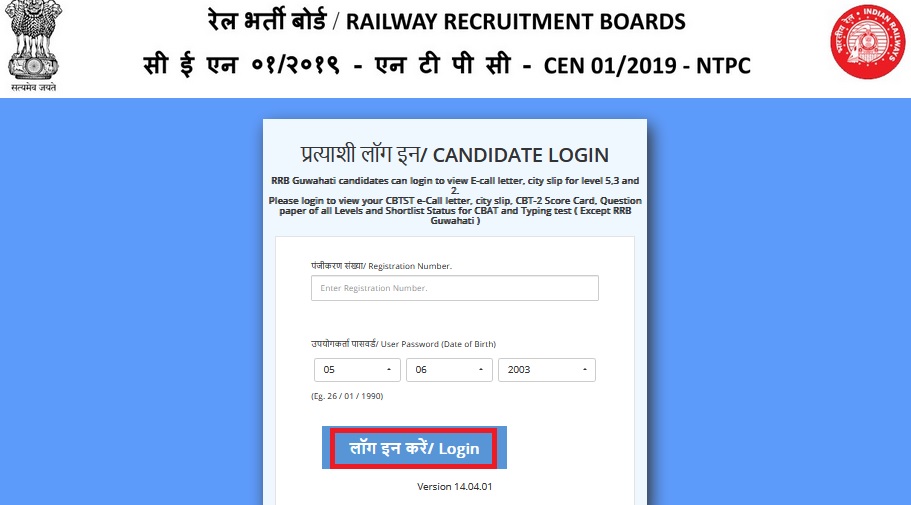 Important Instructions RRB Group D Exam
1) Malpractices: Any candidate found using unfair means of any kind in the examination/CBT, sending someone else in his/her place to appear in the examination, attempt to impersonate will be debarred from appearing in all the examinations of all the RRBs/RRCs (Railway Recruitment Cell) for lifetime. He/she will also be debarred from getting any appointment in the Railways, and if already appointed, will be dismissed from service. Such candidates are also liable for legal prosecution.
2) Banned items: Electronic gadgets like mobile phones, blue tooth, pen drive, laptops, calculators, wrist watches or any other communication devices or pen/pencil, wallet/purses, belts, shoes and metallic wears including ornaments etc. are strictly NOT allowed inside the exam hall. Any infringement of this instruction shall entail summary rejection besides legal action including debarment from future examinations. Candidates are advised in their own interest not to bring any of the banned items including mobile phones etc. to the venue of the examination, as arrangements for safe keeping cannot be assured.
3) Stages of Exam: The exam shall be Computer Based Test (CBT). Railway Administration reserves the right to conduct the CBT in either single or multi stage mode. Candidates qualifying in the CBT shall have to undergo Physical Efficiency Test (PET). It will be followed by Document Verification and Medical Examination.
4) Call Letters: Candidates will have to download the City and Date Intimations, e- Call Letters and Travel Authority (wherever applicable) from the links provided on the official websites of RRBs/RRCs.
5) Normalization of Marks: Marks will be normalized for CBT involving multiple sessions. Marks will be normalized as per the formulae given in Para 15.0 & 15.1 of this Notice. Though Railway Administration reserves the right to modify the formula/adopt different formula based on technical considerations.
6) Short Listing for PET: Railway/RRC wise short listing of candidates for PET shall be done at the rate of three times of the vacancies (may increase or decrease as per the requirement of Railway Administration). The short listing for PET will be based on the merit of the candidates in the CBT.
7) Negative Marking: There shall be negative marking for incorrect answers in the CBT. 1/3rd of the marks allotted for each question shall be deducted for each wrong answer.
8) Calling of candidates more than number of vacancies for post CBT stages – Candidates more than the prescribed number of vacancies may be called for PET and/or the subsequent stages. This is to take care of candidates not turning up and similar exigencies in the recruitment process. It may clearly be noted that calling for and qualifying in PET and subsequent stages of DV and Medical Examination does not mean that candidate will be empanelled or that he/she deserves a vested right to be considered for appointment by Railways.

What are the important date for RRB Group D Exam?
The he important date for RRB Group D Exam are given below,
Admit Card Date : 13th August, 2022
Phase I Exam Date : 17th to 25th August, 2022
Phase II Exam Date : 26th August, 2022 to 08th September, 2022