AAI Junior Executive Air Traffic Control (ATC) Exam Admit Card
Organisation : Airport Authority of India (AAI)
Exam Name : AAI Junior Executive Air Traffic Control (ATC) Recruitment 2022
Announcement : Download Admit Card
Admit Card Date : 23rd July, 2022
Exam Date : 27th July, 2022
Website : https://www.aai.aero/en/careers/recruitment
Want to comment on this post?

Go to bottom of this page.
How To Download AAI Junior Executive (ATC) Admit Card?
To downloadAAI Junior Executive (ATC) Admit Card, follow the below steps
Step-1 : Go to the link https://cdn.digialm.com//EForms/configuredHtml/1258/77651/login.html
Step-2 : Enter the User Id
Step-3 : Enter the Password
Step-4 : Click on Login button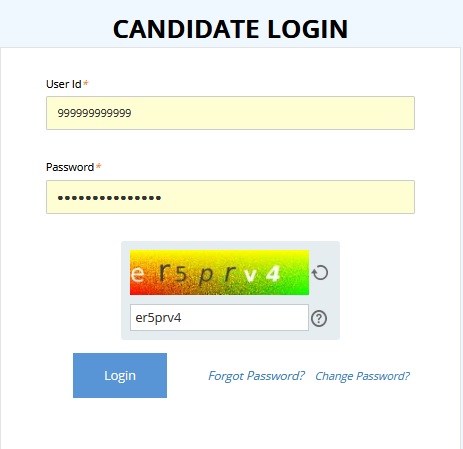 Selection Process of AAI Junior Executive (ATC)
The Selection Process of AAI Junior Executive (ATC) Exam are given below,
(i) Candidate should carefully read the important instructions before filling the application form and ensure that he/she fulfils the eligibility and other norms mentioned in the Advertisement. Furnishing of wrong/false information will lead to disqualification and AAI will not be responsible for any consequence of furnishing such wrong/false information.
(ii) On selection candidate shall also attain ICAO language minimum proficiency level 4 (Operational) for the purpose of issue of license or rating. Any candidate who is not able to attain ICAO proficiency level 4 or above during the training, his/her services are liable to be terminated.
(iii) On the basis of the details furnished in application form, candidates shall be called for On-line examination and admit cards shall be issued to them accordingly. The admit card for on-line examination will be sent to the eligible candidates on their registered E-mail IDs only.
(iv) There will not be any negative marking for wrong answer attempted by the candidates.
(v) On-line examination will be followed by Documents Verification, Voice Test and Background Verification. Candidates will also be tested for Psychoactive Substances before employment.
(vi) The presence of the following psychoactive substances will be tested:
a) Amphetamine and Amphetamine type stimulants
b) Opiates and metabolites
c) Cannabis (Marijuana) as THC
d) Cocaine
e) Barbiturates
f) Benzodiazepine
(vii) Candidates will be shortlisted on the basis of their performance in On-line examination and they will be called
for Documents Verification/ Voice Test.

What is AAI Junior Executive (ATC) Exam?
Airports Authority of India (AAI), a Government of India Public Sector Enterprise, constituted by an Act of Parliament, is entrusted with the responsibility of creating, upgrading, maintaining and managing civil aviation infrastructure both on the ground and air space in the country. AAI has been conferred with the Mini Ratna Category-1 Status
What are the important date of AAI Junior Executive Exam?
The important date of AAI Junior Executive Exam are given below,
Admit Card Date : 23rd July, 2022
Exam Date : 27th July, 2022