MJPRU UP B.Ed Joint Entrance Exam Admit Card 2022
Organisation : Mahatma Jyotiba Phule Rohilkhand University, Bareilly (MJPRU)
Exam Name : Combined UP B.Ed Joint Entrance Exam 2022
Announcement : Download MJPRU B.Ed Joint Entrance Exam Admit Card 2022
Admit Card Date : 25th June 2022
Exam Date : 06th July 2022
Result Date : 05th August 2022
Website : https://mjpru.ac.in/index.aspx
Want to comment on this post?

Go to bottom of this page.
How To Download MJPRU UP B.Ed Exam Admit Card?
To Download MJPRU UP BEd Exam Admit Card, Follow the below steps
Step 1: Go to the link https://cdn3.digialm.com/EForms/configuredHtml/1936/76624/login.html
Step 2: Enter User ID
Step 3: Enter Password
Step 4: Click on login.
FAQ on MJPRU UP BEd Exam
Frequently Asked Question FAQ on MJPRU UP BEd Exam are given below
1. When UP b ed entrance exam 2022?
July 6
The UP JEE B.Ed 2022 exam will be conducted on July 6. The entrance examination comprises two papers – Paper 1 and Paper 2. Both Paper 1 and Paper 2 will have two parts of 50 questions in each part.
2. How do you apply a 2022 BEd?
Candidates aspiring to get B. Ed admission 2022 through a B. Ed entrance exam 2022 must fill the application form for the entrance exam first. The candidates will have to visit the official website of the respective entrance exams and complete the registration process.
3. Is there any entrance exam for B Ed in UP?
UP BEd JEE is a state-level entrance exam conducted for providing admission to eligible candidates in the Bachelor of Education (BEd) course offered at various colleges in the state of Uttar Pradesh.
4. Who will conduct up bed 2022?
The Bareilly University
The UP JEE B.Ed exam 2022 will be held on July 6, 2022 and the tentative date of result is August 5, 2022. The examination will be held through the offline mode and is held by the Bareilly University.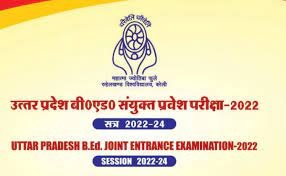 5. What is qualification for B Ed in UP?
According to the notification of UP B. ED JEE released by Lucknow University for admission in the 2022-24 session, the age of the candidates must not be less than 21 years of age. The candidates must have passed a Bachelor's Degree in any of the relevant subjects from a recognized university or college.
6. What is the syllabus of up B. Ed entrance exam?
UP B. Ed JEE 2022 Section-wise Marks Distribution
What are the Important Date of MJPRU UP BEd Exam?
The Important Date of MJPRU UP BEd Exam are given below,
Admit Card Date : 25th June 2022
Exam Date : 06th July 2022
Result Date : 05th August 2022