VIT Engineering Entrance Examination 2022 : viteee.vit.ac.in
Organisation : Vellore Institute of Technology VIT
Exam Name : VIT Engineering Entrance Examination (VITEEE) 2022
Announcement : Download E-Admit Card & Slot Booking
Exam Date : 30th June to 06th July 2022
Results Declaration : 8th July 2022
Counselling Date : 8th July 2022
Website : https://viteee.vit.ac.in/
Want to comment on this post?

Go to bottom of this page.
How To Download VITEEE Exam Admit card?
To Download VITEEE Exam Admit card, Follow the below steps
Step 1: Go to the link
Step 2: Enter Application number
Step 3: Enter Password
Step 4: Enter the characters as shown in the below box
Step 5: Click on Login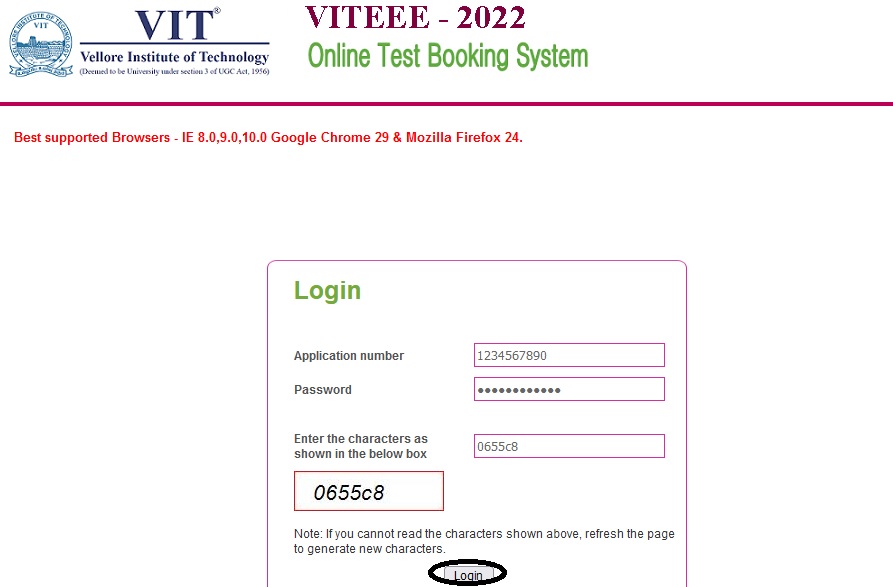 Eligibility Criteria
The Eligibility Criteria of Admission Process of VITEEE Exam are given below,
Nationality:
The applicant should be a Resident / Non Resident Indian National / PIO.
Foreign Candidates studied/studying abroad can apply directly through foreign category only at https://admissions.vit.ac.in/ugirapplication/
Age Limit :
** Candidates whose date of birth falls on or after 1st July 2000 are eligible to apply for UG Engineering admission (UGEA) 2022.
** The date of birth as recorded in the High School / SSC / X Certificate will be considered authentic.
** Candidates should produce this certificate in original as a proof of their age at the time of counselling / admission, failing which they will be disqualified.
Subject Eligibility:
1. Candidates having studied Mathematics/Physics/Chemistry in +2 / Higher Secondary Board are eligible for all the B.Tech. Programmes
2. Candidates having studied Biology/Physics/Chemistry in +2/ Higher Secondary Board are eligible for the following Bio stream programmes only.
3. Upon joining, the students need to mandatorily register for a bridge course in Mathematics
a) B.Tech. Bio-engineering(VIT-Bhopal)
b) B.Tech. Biotechnology(VIT, Vellore)
c) B.Tech. Computer Science and Engineering with specialisation in Bioinformatics(VIT, Vellore)
d) B.Tech. Computer Science and Engineering (Specialization in Health Informatics) (VIT-Bhopal)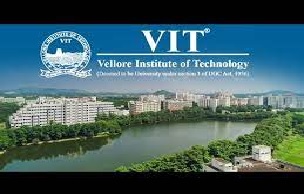 Admission Process of VITEEE Exam
The Admission Process of VITEEE Exam are given below,
**Selection is based on the rank secured through CBT (Computer Based Test).
**Selected candidates will be called for online counselling based on their ranking.
**Eligible Candidates may select specific campus and programme during the Counselling.
**After payment of full fees classes will be conducted online / reporting in person to the Institution.
**Candidates are expected to prove their genuineness on joining.
FAQ on VITEEE Exam
Frequently Asked Question FAQ on VITEEE Exam are given below,
1. Does VIT offer admissions through Management quota?
There is no Management Quota in VIT. Admissions is purely based on the merit rank obtained in the VITEEE and for other Undergraduate programs, it is based on the merit of your XII/ Higher Secondary Boards by which you would be accordingly ranked.
2. Could I have some information on the VITEEE?
– VIT Engineering Entrance Examination will be conducted between 2nd and 3rd week of April 2022 (Tentatively) CBT – Computer based test.
– The duration of the Entrance Examination will be of 2 hours and 30 minutes
– The details on the sessions and timings would be intimated before slot booking.
3. Is there an option to 'Edit' the application form in web?
'Yes'. Once you complete the application form, you will be able to edit your application. (After making the payment and uploading your photo & Signature)
4. I have secured 62% overall in +2 examination, but 53.35% in PCM / PCB. In such case, am I eligible for admission?
'No'. You should satisfy the eligibility criteria of obtaining a minimum aggregate of 55% in PCM /PCB for the B.Tech. Programme.
What are the Important dates of VITEEE?
The Important dates of VITEEE are given below,
Exam Date : 30th June to 06th July 2022
Results Declaration : 8th July 2022
Counselling Date : 8th July 2022