UPPCL Assistant Review Officer ARO Skill Test Admit Card 2022 : upenergy.in
Organisation : Uttar Pradesh Corporation Limited (UPPCL)
Exam Name : Assistant Review Officer ARO Recruitment 2021
Announcement : Download Admit Card
Skill Test Admit Card : 13th June 2022
Website : https://www.upenergy.in/
Want to comment on this post?

Go to bottom of this page.
How To Download UPPCL ARO Skill Test Admit Card?
To Download UPPCL ARO Skill Test Admit Card, follow the below steps
Step 1: Go to the link https://www.eapplicationonline.com/UPPCL22/Pages/Admit01LoginARO35.aspx
Step 2: Select Post Name
Step 3: Enter Roll Number
Step 4: Enter Date of Birth
step 5: Click on Login
Related / Similar Admit Card : UPPCL Camp Assistant Grade 3 Skill Test Admit Card 2022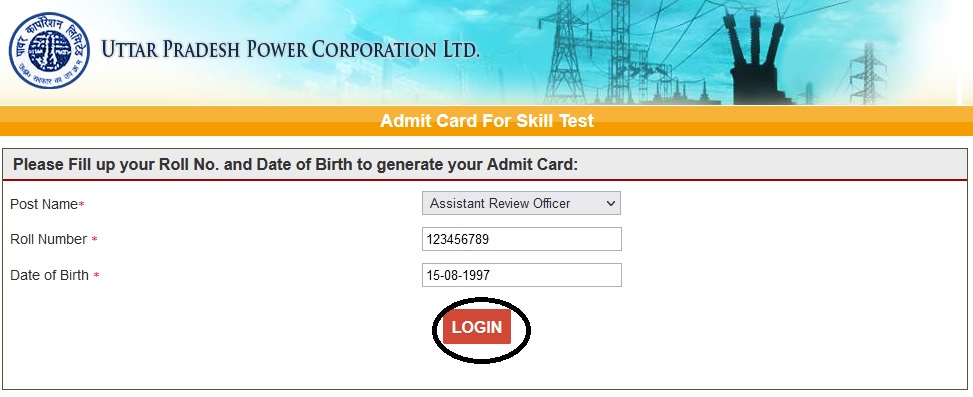 About UPPCL
The creation of Uttar Pradesh Power Corporation Ltd. (UPPCL) on January 14, 2000 is the result of power sector reforms and restructuring in UP (India) which is the focal point of the Power Sector, responsible for planning and managing the sector through its transmission, distribution and supply of electricity. UPPCL will be professionally managed utility supplying reliable and cost efficient electricity to every citizen of the state through highly motivated employees and state of art technologies, providing an economic return to our owners and maintaining leadership in the country.
FAQ On UPPCL ARO Skill Test
Frequency Asked Questions FAQ On UPPCL ARO Skill Test are given below,
1. What is the salary of assistant review officer in Uppcl?
The annual package of an Assistant Review Officer ranges between. Rs 1,50,000 to 4, 50,000. The pay tends to increase after a certain period of time as per the industry standards.
2. What is Uppcl ARO exam?
Uttar Pradesh Power Corporation Limited (UPPCL) is looking for people who are interested in working as Assistant Review Officers (AROs). Applicants who are interested should fill up the UPPCL ARO Application Form 2021 before the deadline. The UPPCL ARO Exam 2021 will be held in two stages- written exam and typing test.
3. Is there any interview in Uppcl assistant accountant?
The UPPCL Assistant Accountant Exam 2021 will be held in two stages, a written exam and a personal interview round. According to the UPPCL Assistant Accountant Syllabus and Exam Pattern 2021, there will be two written examinations.
4. What is Aro post?
The Uttar Pradesh Public Service Commission (UPPSC) has published the recruitment advertisement to the post of Review Officer (RO) and Assistant Review officer (ARO). Interested candidates can find educational qualification, salary, selection procedure, vacancy and more important details at below.
5. Is there any interview in Aro?
Among these stages, the first two are the UPPSC RO ARO written examinations and the UPPSC RO ARO interview round is going to be a personal interview to be conducted by the panel. In the UPPSC RO ARO Prelims Exam 2021-22, there will be two papers namely paper-I and paper-II.
6. How many questions are in RO Aro exam?
UPPSC RO ARO Prelims Exam Pattern
7. How do I become Aro?
The candidate should hold a Bachelor's Degree in Any Stream from any recognized university to be eligible to apply for UPPSC RO ARO Recruitment 2021. (1) Bachelor's degree in commerce with Accountancy from a University established by law in India or a qualification recognized by the Government as equivalent thereto.