NTA NCHM JEE Admission Test 2022 : nchmjee.nta.nic.in
Organisation : National Testing Agency (NTA)
Exam Name : National Council of Hotel Management NCHM JEE Admission Test 2022
Announcement : Download Admit Card
Exam Date : 18th June, 2022
Website : https://nchmjee.nta.nic.in/WebInfo/Page/Page?PageId=1&LangId=P
Want to comment on this post?

Go to bottom of this page.
How To Download NTA NCHM JEE Admission Test?
To Download NTA NCHM JEE Admission, Follow the below step
Step 1: Go to the link https://examinationservices.nic.in/examsys22/DownloadAdmitCard/frmAuthforCity.aspx?enc=Ei4cajBkK1gZSfgr53ImFQlBQayGFQnhy+HS+qvyGGvMedYcNfa2vx+pjrUVhOV1
Step 2: Enter Application No
Step 3: Enter DOB
Step 4: Enter Security Pin
Step 5: Click on Submit button.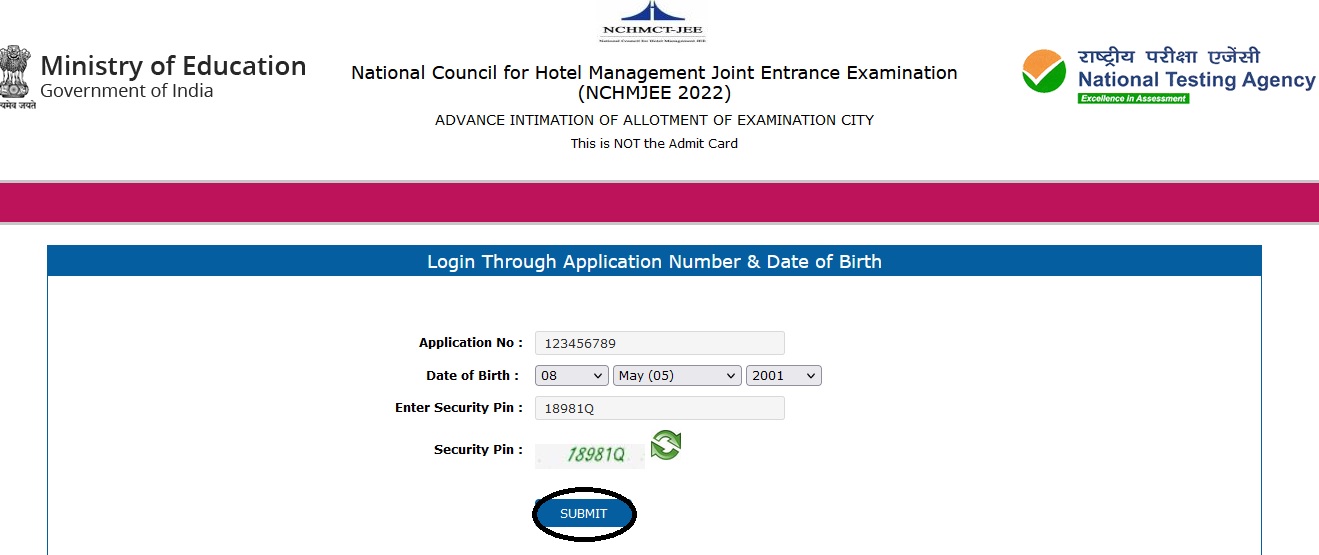 FAQ on NTA NCHM JEE Test
Frequently Asked Question FAQ on NTA NCHM JEE Test are given below,
1. How can I prepare for Nchmct jee?
NCHMCT JEE 2022 Preparation Tips
** Create a Time-Table. A proper time table helps to set a clear action goal for the exam. …
** Read Newspaper Daily. …
** Revise Regularly. …
** Solve Previous Year Papers & Mock Papers. …
** Aptitude for Service Selection. …
** Have Good Study Material. …
** Practice Mock Test. …
** Maintain Health.
2. Is maths important for NCHMCT JEE?
However, the NCHMCT just tests you on high school mathematics and your ability to use mathematical concepts to solve real world problems. Practice maths daily for at least half an hour and ensure that you've covered all the topics.
3. What is a good score in NCHMCT?
The maximum marks in the NCHMCT JEE examination are 800 hence candidates should try to score at least 730 marks in the exam. The table below shows the average score, good score and very good score for the NCHMCT JEE examination.
4. Who is eligible for Nchmct?
Candidates should have completed plus two level examination in the 10+2 pattern of Senior Secondary education of any recognized Central/State Board, such as Central Board of Secondary Education and Council for Indian School Certificate Examination or State Boards of Secondary Education.
5. Is there any negative marking in Nchmct?
NCHMCT JEE 2022 Marking Scheme:
NCHMCT JEE question paper comprises of 200 questions and for each correct answer, the candidate is awarded 4 marks. There will be a negative marking of 1 marks for every wrong answer. 0.05 marks can be deducted for every unanswered question.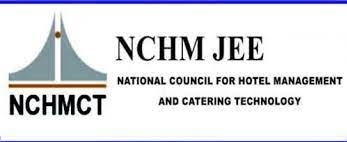 About NTA NCHM JEE Test
The Ministry of Education (MOE), Government of India (GOI) has established National Testing Agency (NTA) as an independent autonomous and self-sustained premier examining organization under the Societies Registration Act, 1860 for conducting efficient, transparent and international standards exams in order to assess the competency of candidates for admissions to premier higher educational institutions. National Council for Hotel Management & Catering Technology(NCHMCT), was set up in 1982, as an autonomous body under the Ministry of Tourism, Govt. of India, for coordinated growth and development of hospitality management education in the country. The Council regulates academics in the field of Hospitality Education & training that is imparted at Institutes affiliated to it.
What are the Important Dates of NTA NCHM JEE Test?
The Important Dates of NTA NCHM JEE Test are given below,
Exam Date : 18th June 2022
Admit Card : 10th June 2022