UPPSC Combined Medical Services Examination CMSE Marksheet 2021-22
Organisation : Uttar Pradesh Public Service Commission UPPSC
Exam Name : UPPSC Combined Medical Services Examination CMSE 2021-22
Announcement : Download Marksheet
Advt. No: 1-2021-22 [S-8-01] To [S-8-15]
Last Date : 14th June 2022
Website : https://uppsc.up.nic.in/marksheet.aspx
Want to comment on this post?

Go to bottom of this page.
How To Download UPPSC CMSE Exam Marksheet?
To download UPPSC CMSE Exam Marksheet, follow the below steps
Step-1 : Go to the link
Step-2 : Enter the Registration Number
Step-3 : Enter the Password
Step-4 : Enter Verification Code
Step-4 : Click on Proceed button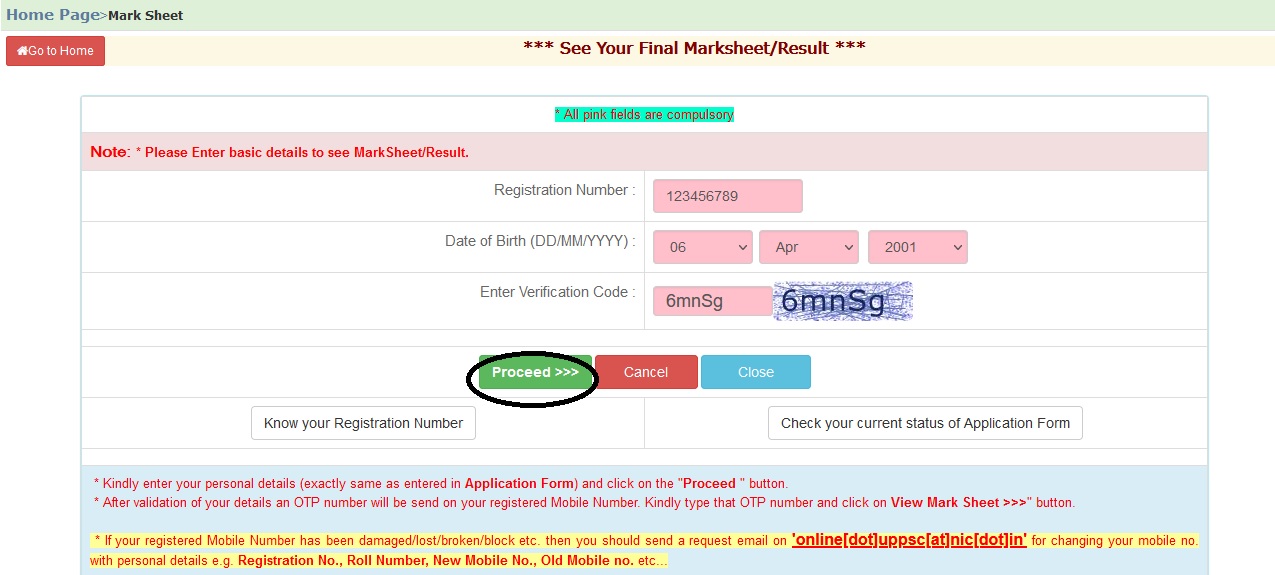 * Kindly enter your personal details (exactly same as entered in Application Form) and click on the "Proceed " button.
* After validation of your details an OTP number will be send on your registered Mobile Number. Kindly type that OTP number and click on View Mark Sheet >>>" button.
FAQ on UPPSC CMSE
Frequently Asked Questions FAQ on UPPSC Combined Medical Services Examination CMSE are given below,
1. How can I become a medical officer in Uttar Pradesh?
The Educational qualification is Master Degree in Microbiology with 3 Year Exp. Bachelor Degree in Ayurveda or Unani Tib with Registration as Vaidhya OR Hakeem with Board of Indian Medicine, UP and 6 Month Experience. Public Health Specialist.
2. What is UPSC CMS salary?
The UPSC CMS starting salary will be INR 56100/-. But the salary will differ for different posts of the UPSC CMS. The Assistant Divisional Medical Officer in the Railways will receive a salary within (INR 15600 – 39100/-).
3. Can I give UPSC after MBBS?
If you are a disciplined and dedicated student, then you can easily crack UPSC and MBBS together. Doing UPSC after MBBS may seem to be an uphill task, but the same can be achieved if one decides to do so.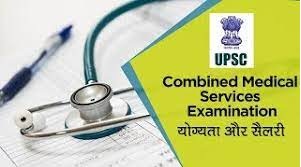 4. Can a BDS give CMS exam?
BDS aspirants can appear for the CMSE , Combined Medical Service Examination which is conducted by UPSC (Union Public Service Comission). CMSE consists of two written and personality test. Only the candidate holding MBBS degree and are below 32 years are eligible.
5. What is CMS paper?
Combined Medical Services (CMS) Exam is conducted by the UPSC every year. It consists of two papers. Paper I is General Ability, General Medicine & Paediatrics while Paper II is Surgery, Gynaecology & Obstetrics and Preventive, Social & Community Medicine.
6. How many exams are there in CMS?
The candidates will take the Computer based examination in two Papers, each Paper carrying a maximum of 250 marks. Each Paper will be of two hours duration. Part-II Personality Test: (100 Marks): Personality test carrying 100 marks of such of the candidates who qualify on the results of the Computer based examination.
7. What is CMS medical?
The term CMS stands Centers for Medicare & Medicaid Services—an agency established to oversee various numbers of medical care programs within the U.S. The agency falls under the Department of Health and Human Services (HHS) to ensure smooth administration of all the major medical care programs like Medicaid
8. What is CMS assessment?
National Impact Assessment of the Centers for Medicare & Medicaid Services (CMS) Quality Measures Reports. CMS uses quality measures to support a patient-centered health care system anchored by quality, accessibility, affordability, innovation, and accountability.