NFC Upper Division Clerk Post Code 21925 Level-I Exam Admit Card 2022
Organisation : Nuclear Fuel Complex
Exam Name : NFC Upper Division Clerk Level-I Exam 2022
Post Code : 21925
Announcement : Download Admit Card
Exam Date : 5th June 2022
Website : https://www.nfc.gov.in/recruitment.html
Want to comment on this post?

Go to bottom of this page.
How To Download NFC Upper Division Clerk Admit card?
To Download NFC Upper Division Clerk Admit card, Follow the below steps
Step 1: Go to the link https://nfcrecruitment.aptonline.in/(S(0the1cyufuidrnopkudebpqx))/LoginPages/LoginPage.aspx
Step 2: Enter User name
Step 3: Enter password
Step 4: Enter Captcha
Step 5: Click on login button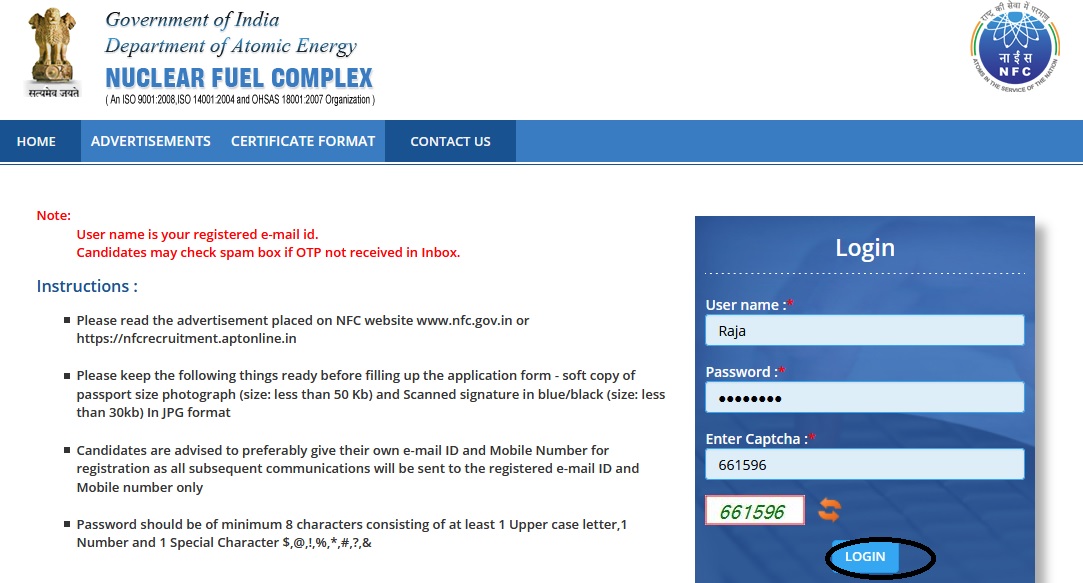 Note:
**User name is your registered e-mail id.
**Candidates may check spam box if OTP not received in Inbox.
Instructions :
** Please read the advertisement placed on NFC website
** Please keep the following things ready before filling up the application form – soft copy of passport size photograph (size: less than 50 Kb) and Scanned signature in blue/black (size: less than 30kb) In JPG format
** Candidates are advised to preferably give their own e-mail ID and Mobile Number for registration as all subsequent communications will be sent to the registered e-mail ID and Mobile number only
** Password should be of minimum 8 characters consisting of at least 1 Upper case letter,1 Number and 1 Special Character $,@,!,%,*,#,?,&
Selection Procedure for NFC Upper Division Clerk Exam
The Selection Procedure for NFC Upper Division Clerk Exam are given below,
Level-I: Objective test covering General English, General Knowledge, General Intelligence & Reasoning, Quantitative Aptitude (Arithmetic).
Minimum qualifying Standard in Level-I for SC/OBC candidates is 40% aggregate and for others is 50% aggregate.
Candidates qualifying in Level-I exam will be called for Level-II (Descriptive) exam.
Level-II: English language and comprehension (Descriptive Written Test).
Empanelment will be based on the marks scored in Level-II (Main) only.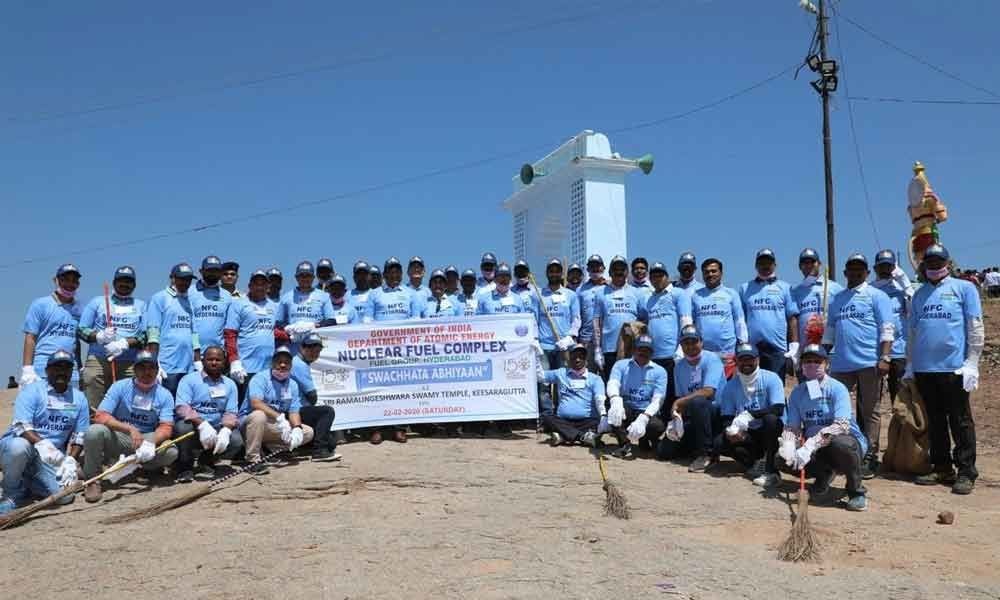 Certificates To Be Submitted
Candidates who are called for Interview/Stage-2/Level-2 examination shall be required to produce printout of online application along with originals and self attested copies of certificates mentioned below:
a. Educational qualifications and technical qualifications (supported by appropriate mark sheets) starting from (SSC) X standard onwards.
b. Date of birth/Proof of age.
c. SC and ST certificate should be issued by an authority duly authorized to issue such Certificate in the prescribed format and the caste/community should have been included in the Presidential orders in relation to the concerned State.
d. Disability Certificate from the appropriate authority regarding physical disability.
e. Candidates claiming reservation under EWS are required to produce Income and Asset certificate in the prescribed format enclosed to this advertisement duly issued by the Competent Authority.
f. "No Objection Certificate in case working under Central/State Government, Public Sector Undertakings/Autonomous Bodies.
g. Proof to the effect that they have been affected by 1984 riots (if claiming age relaxation).
h. Certificate regarding domiciled in Kashmir Division from 01.01.1980 to 31.12.1989 (if claiming age relaxation for Kashmir division).
i. Ex-Servicemen Certificate.
NOTE: Candidates who fail to submit the documents as mentioned above, will not be allowed to appear for Interview/stage-2/level-2 test/examination.
General Instructions for NFC Upper Division Clerk Exam
**Upon selection and appointment, the candidates are required to attend in round-the-clock shift duties and as the situation demands.
**Applications, which are not in conformity with the requirements, may be rejected at any stage. Mere submission of online application does not confer any right for attending the further recruitment process. Applications which are not in conformity with this advertisement will be rejected at any stage of recruitment process. No correspondence will be entertained with the candidates.
**Candidates may ensure that they fill in the correct information and should understand that furnishing false information will entail them disqualified for written exam/ appointment.