UPHESC Interview Letter 2022 : Assistant Professor Recruitment Uttar Pradesh
Organisation : Uttar Pradesh Higher Education Service Commission (UPHESC)
Exam Name : UPHESC Assistant Professor Recruitment 2021
Announcement : Download Interview Letter
Interview Date : Interview starts from 09th March 2022
Website : http://site.uphesc.org/hi
Want to comment on this post?

Go to bottom of this page.
UPHESC Assistant Professor Interview Letter
Uttar Pradesh Higher Education Service Commission (UPHESC) has uploaded the interview letter for Assistant Professor Recruitment 2021

How To Download UPHESC Assistant Professor Interview Letter?
To Download UPHESC Assistant Professor Interview Letter, Follow the below steps
Step-1 : Go to the link https://uphesc2021.co.in/login
Step-2 : Enter the Email Address
Step-3 : Enter the Date of Birth (DD-MM-YYYY)
Step-4 : Click on Login button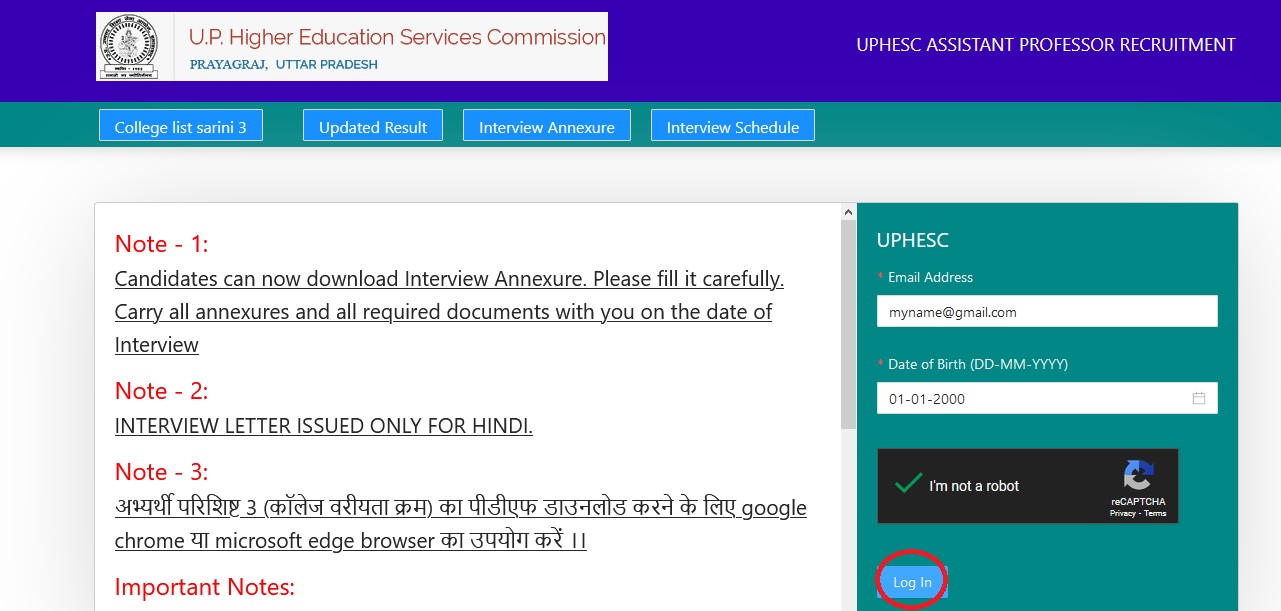 Note:
** Candidates can now download Interview Annexure. Please fill it carefully. Carry all annexures and all required documents with you on the date of Interview
** Interview Letter Issued Only For Hindi.
Important Instructions
** Candidates have to login with their registered email id and date of birth.
** Once you login you will see your basic details.
** Click on continue button and go to next page you will find college list in scroll.
** You can select your college preference according to your choice by doing up and down selected college. (Click on the college and drag to change it's position)
** Suppose your 1st preference is at no 5 in scroll then you have to click on number and drag up to number 1.
** After doing drag and drop your choice you will see the preview of preference,if you want change click on CANCEL ,if your preference will correct then click on submit.
** Once you submitted the choice you cannot change . Then download your interview letter,application form,instructions and college preference list.
Relaxation of Marks at Post Graduate level :
I.A relaxation of 5% shall be allowed at the Master's level for the candidates belonging to Scheduled Caste/Scheduled Tribe/Other Backward Classes (OBC)(Non-creamy Layer)/Differently abled
(a) Blindness and low vision;
(b) Deaf and Hard of Hearing;
(c) Locomotor disability including cerebral palsy, leprosy cured, dwarfism, acid-attack victims and muscular dystrophy;
(d) Autism, intellectual disability, specific learning disability and mentalillness;
(e) Multiple disabilities from amongst persons under
(a) to (d) including deaf-blindness) for the purpose of eligibility and assessing good academic record.
The eligibility marks of 55% marks (or an equivalent grade in a point scale wherever the grading system is followed) and the relaxation of 5% to the categories mentioned above are permissible, based only on the qualifying marks without including any grace mark procedure.
II.A relaxation of 5% shall be provided, (from 55% to 50% of the marks)to the Ph.D. Degree holders,who have obtained their Master's Degree prior to19 September, 1991.
III.A relevant grade which is regarded as equivalent of 55%, wherever the grading system is followed by a recognized university, at the Master's level shall also be considered valid.