IARI ICAR Technician T-1 Admit Card 2022 : Indian Council of Agricultural Research
Organisation : Indian Agricultural Research Institute (IARI), Indian Council of Agricultural Research (ICAR)
Exam Name : Technician T-1 Recruitment 2021
Announcement : Download Admit Card 2022
Exam Date : 28 Feb, 02, 04, 05 March 2022
Website : https://www.iari.res.in/
Want to comment on this post?

Go to bottom of this page.
IARI ICAR Technician T-1 Admit Card
Indian Agricultural Research Institute (IARI), Indian Council of Agricultural Research (ICAR) has released the admit card for Technician T-1 Recruitment 2021 exam.
Related / Similar Admit Card : ICAR IARI Assistant Exam Admit Card 2022

How To Download ICAR Technician T-1 Admit Card
To Download IARI ICAR Technician T-1 Admit Card, Follow the below steps
Step-1 : Go to the link https://cdn.digialm.com//EForms/configuredHtml/1258/74856/login.html
Step-2 : Enter the User ID
Step-3 : Enter the Password
Step-4 : Enter the Captcha
Step-5 : Click on Login button to download the admit card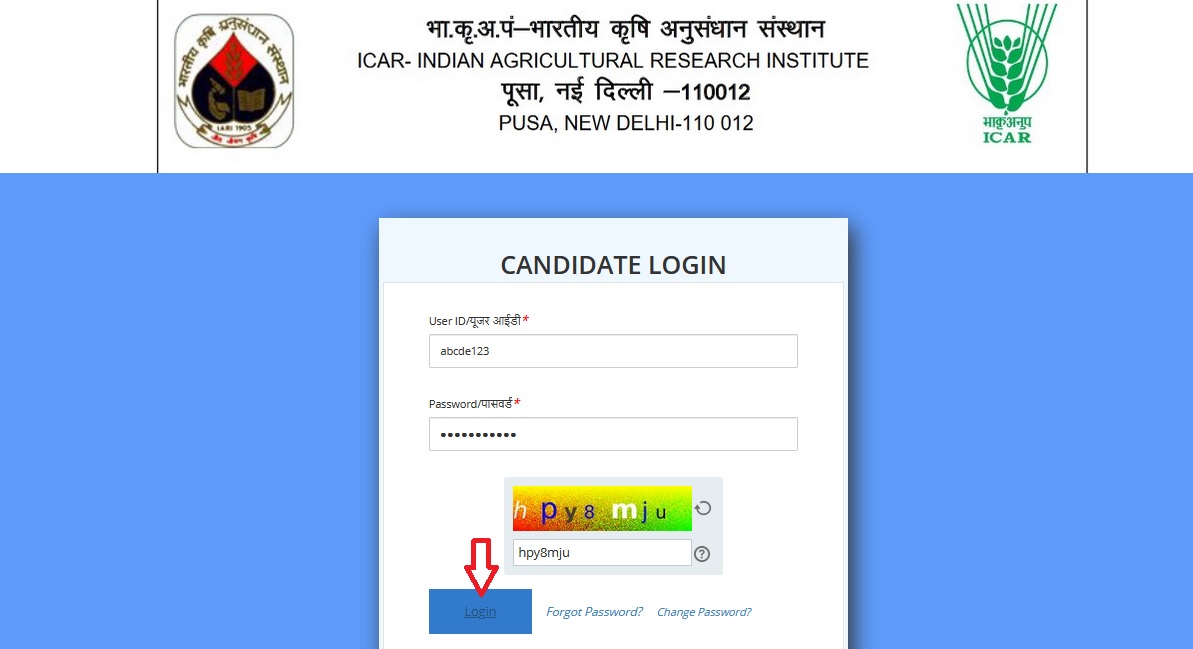 Examination Cities
The cities where the Examination will be conducted in Online Computer Based Test (CBT) mode are mentioned in Annexure-II. Candidates may select five (05) cities in order of their preference. However, the 3 Cities of Examination could be changed/ allocated at the discretion of IARI.
Candidates must select the centre of examination carefully while submitting their online application for the examination.No request for change of centre would be entertained at later stage. There may be more than one venue at any/all cities depending upon the number of candidates registered for the examination.
Plan of Examination
The scheme and syllabus of the examination are given in the rules of the examination for the respective posts vide Annexure III.The Question Paper will be set in English & Hindi only. In case of any difference/discrepancy/dispute in the questions between English and Hindi, the content of English version shall prevail.
Computer Based Test/Examination shall consist of Objective Type 100 Questions with 4 multiple choice answers out of which candidate has to choose one correct answer only. Each question carries one mark.For each wrong answer ¼ (0.25) mark shall be deducted.Qualifying marks in written test/CBT is prescribed as 40% for UR, 30% for SC/OBC-NCL/EWS and 25%for ST.
Important Instructions
** The candidate will be responsible for any error of omission and commission, since no eligibility is being verified/ checked at this stage, hence the candidates are strongly advised to ascertain their eligibility regarding educational/ other qualifications, age, category, etc., before applying.
** They should ensure the correctness and authenticity of all the information including spelling, etc., before submitting subsequent to which no request for change/ modification/ corrections, etc., will be considered under any circumstances.
** It may be noted that caste certificate in the standard format of Caste Certificate/EWS applicable for Employment in Central Government services and Disability Certificate in the prescribed format only will be accepted in the absence of which it will not be considered and candidature shall be rejected summarily.
** This is also clearly indicated that no document is being verified at this stage
** The candidates are not required to submit any printed/ hard copy of their online application or copies of any certificate/ document at the stage of filling up online application
** Furnishing of any false/fabricated/incorrect/misleading information by ICAR employees applying for this examination will render him/her liable for disciplinary action by the IARI/ICAR as per CCS (CCA) Rules.
** The vacancies will be filled on the basis of the merit and taking into account the orders for reservation for SC/ST/OBC-NCL/EWS/PwBD/Ex-Serviceman issued by the Government.
** Only such EWS/ SC/ ST/ OBC-NCL/ PwBD candidates who are selected on the same standard as applied to UR candidates shall be treated as own merit candidates.
** If any EWS/ SC/ ST/ OBC-NCLand PwBD candidate qualify after getting any relaxation in age or qualifying marks than what is prescribed as General Standard for Unreserved category candidates, then such EWS/ SC/ ST/ OBC-NCL/ PwBD candidate shall be considered against reserved vacancies and they cannot be considered for appointment against an unreserved vacancy.
** The decision of the IAR Ias to the eligibility or otherwise of a candidate for admission to the examination shall be final.
** The candidates are advised to read the Notification for the Examination carefully before filling up the online application form. No request for change in the entries once made in the online application form will be entertained under any circumstances
** No request for withdrawal of candidature/ application received from a candidate after he/ she has submitted his/ her application will be entertained under any circumstances