cetonline.karnataka.gov.in : UGCET 2021 Admission Ticket Common Entrance Test Karnataka
Organisation : Karnataka Examinations Authority
Exam Name : UGCET 2021 Common Entrance Test
Announcement : Admission Ticket
Exam Date : 28th, 29th, 30th August 2021
Website : https://cetonline.karnataka.gov.in/kea/cet2021
Want to comment on this post?

Go to bottom of this page.
KEA UGCET Test Admit Card
Karnataka Examinations Authority (KEA) has released the UGCET- 2021 Admission Ticket for Common Entrance Test

How To Download Admission Ticket?
Just follow the simple steps mentioned below to download the admit card.
Step-1 : Go to the link http://164.100.133.71/ughallticket2021/forms/canddetails.aspx#no-back-button
Step-2 : Enter the Application Number
Step-3 : Enter the Date Of Birth (as per SSLC Marks card)
Step-4 : Click on Submit button.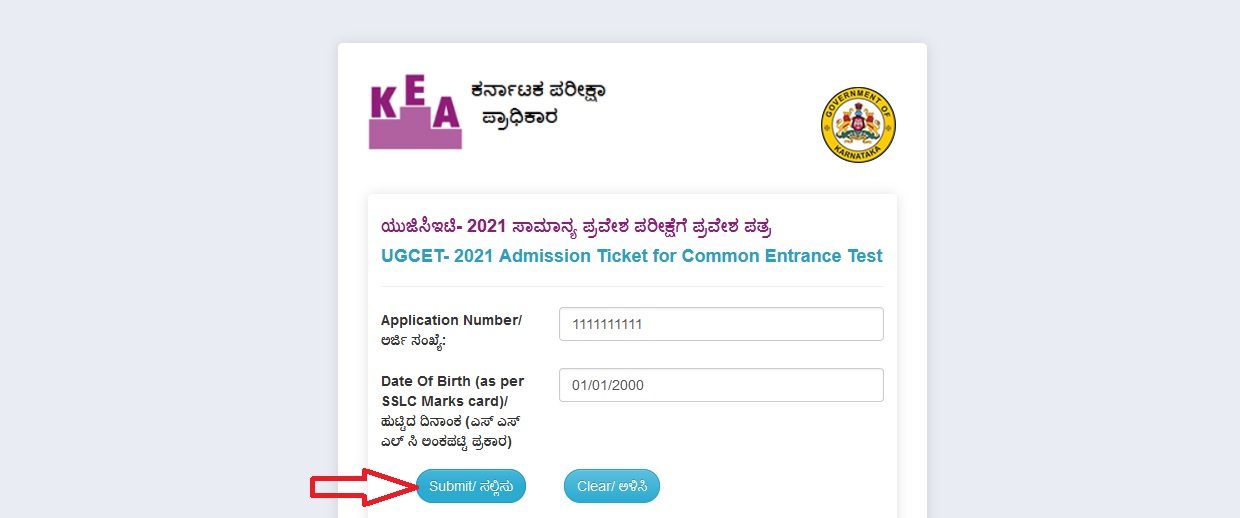 Exam Dates
Date of Common Entrance Test : 2021 28-08-2021 and 29-08-2021
Date of Kannada language Test: (ONLY for Horanadu & Gadinadu Kannadiga candidates) 30-08-2021
Mode of Conducting The Test
In order to obtain admission to any of the professional courses through KEA, a candidate must appear for the Common Entrance Test as per their choice of courses, which will be conducted by the Karnataka Examinations Authority, Bangalore (Herein after referred to as KEA).
The Common Entrance Test-2021 will be conducted at the notified places across Karnataka. Candidates who have passed or are appearing for Qualifying Examination within Karnataka should write 'CET-2021' in a test centre assigned by the KEA within the district in which the candidate has studied 2nd PUC or 12th standard
Kannada Language Test:
** The candidates claiming eligibility for Government seats under Horanadu & Gadinadu Kannadiga clauses and whose mother tongue is Kannada, Tulu or Kodava, will have to undergo a Kannada language test, to establish their ability to speak, read and write Kannada.
** The Kannada Language test will be conducted by KEA as per the above schedule at Bidar, Belagavi, Ballary, Bijapura, Mangalore, Bengaluru Centres; therefore such candidates will have to appear for the 'Common Entrance Test – 2021' in a test centre located at Bengaluru, Bidar, Belagavi, Ballary, Bijapura, Mangalore Centres Only.
** The relevant photocopy of the original documents of the parents in support of their claim such as marks cards, study certificates, etc., along with the CET admission ticket should be produced on the day of Kannada Language Test.
** The minimum passing marks for all Horanadu and Gadinadu Kannadiga candidates shall be 12 out of 50 marks in Kannada Language Examination conducted by KEA in order to be considered for assignment of ranks and to become eligible for allotment of seats in CET-2021. (The Kannada Language Test paper will be of 4th Standard Level)
** However, the Horanadu and Gadinadu Kannadiga candidates (including clause 'n') who have studied TEN full academic years in Kannada Medium from 1st standard to 10th standard in places outside the state of Karnataka need not appear for Kannada Language Test conducted by KEA
** Minimum of 50% marks in Practical Examination is required to claim seat under Agriculturist Quota. Further, Agriculturist Quota is applicable only for Under Graduate courses.
** Practical Examination will be conducted at Bangalore, Hassan, Mandya, Raichur, Mysore, Munirabad (Koppal District), Arabhavai (Gokak Tq) Tamaka (Kolar District), Mangalore, Bidar, Bagalkot, Dharwad, Vijayapura, Hiriyur (Chitradurga) and Shimoga by concerned Agricultural / Veterinary Universities.
Contact
The Executive Director, Karnataka Examinations Authority,
Tel :080-23460460 (5-lines)
WhatsApp Number :+91 9741388123
Website: http://www.kea.kar.nic.in
E-mail:keauthority-ka@nic.in Version-1.0.12