DEI Entrance Exam 2021-22 Admit Card : Dayalbagh Educational Institute
Organisation : Dayalbagh Educational Institute (DEI)
Exam Name: Online Admission Entrance Exam 2021-2022
Announcement : Download Admit Card
Website : https://www.dei.ac.in/dei/admission/?view=featured
Want to comment on this post?

Go to bottom of this page.
DEI Entrance Admit Card
Dayalbagh Educational Institute (DEI) has released the admit card for Online Admission Entrance Exam 2021-2022.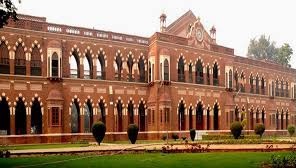 How To Download Admit Card?
Just follow the simple steps mentioned below to download the admit card.
Step-1 : Go to the link http://admission.dei.ac.in:8088/admissionform/account/getApplicantLoginScreen.htm
Step-2 : Click on the link "Download Admit Card"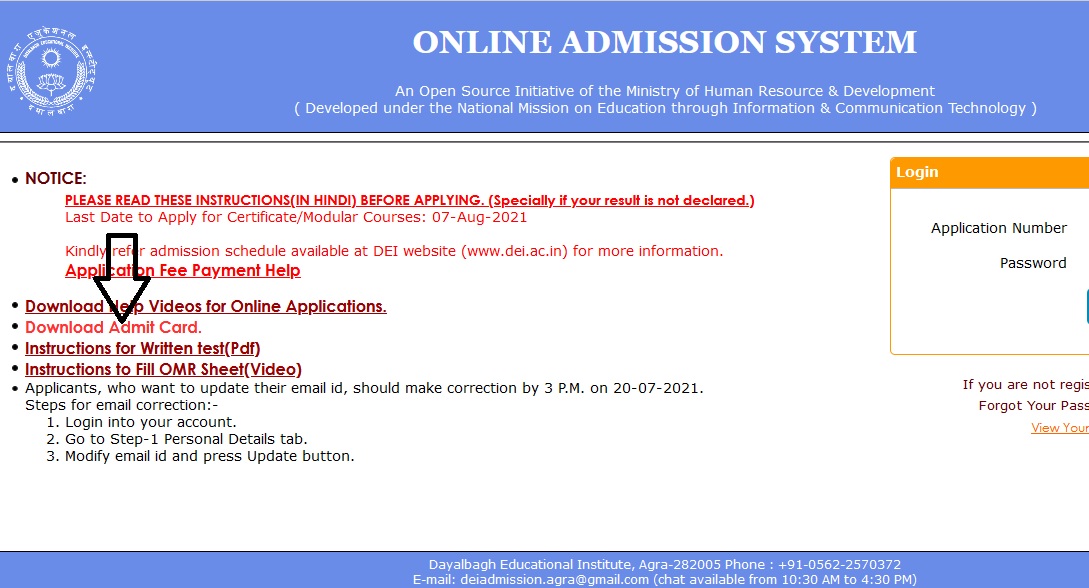 Step-3 : Enter the Application Number
Step-4 : Enter the Date of Birth
Step-5 : Click on the link "Get Admit Card To Download"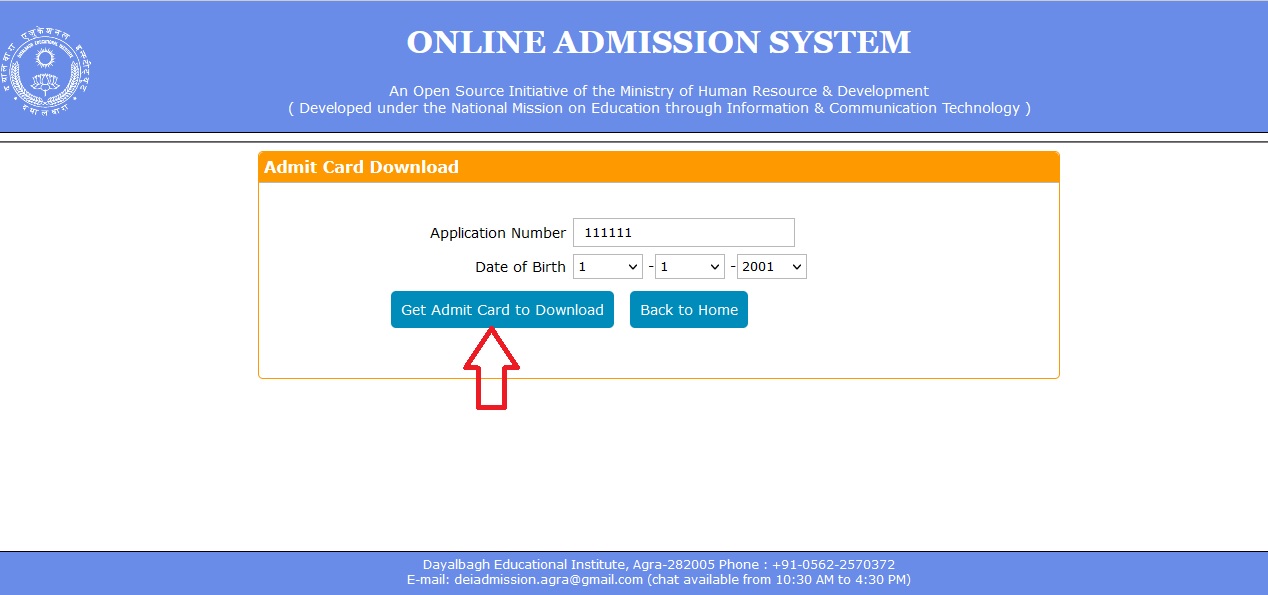 Written Test Instructions
1. Please check Admit Card carefully for your name, course and written test venue. In case of any discrepancy, communicate this to the invigilator. Please bring the Admit Card with you at the time of the written test without which your entry in the said test will not be possible.
2. Candidates are advised to reach the venue at least 1 hour before the examination begins. No candidate in any case will be allowed to enter the examination centre after the commencement of the written test.
3. Please bring BLACK PEN with you to fill in the answer sheet (OMR sheet).
4. Please check thoroughly the sample answer sheet (OMR sheet) present on the website.
5. A candidate can leave the examination hall only after 45 minutes of the commencement of the written test.
6. Candidates must strictly follow the instructions of the invigilators.
7. Candidates are not allowed to bring any rough sheets or any other papers. Use of any unfair means during the written test and interview will automatically forfeit your right to admission.
8. Mobile phones, calculators or any calculating devices are not allowed in the examination hall.
9. Please carry a photo identity proof (College ID Card ,Driving License, Voter ID, etc.) in the examination hall.
10. Carrying any other baggage in the examination hall is not allowed. The Institute will not be responsible for any belongings being stolen or lost.
11. A candidate who fails to appear in the written test/interview or both, will automatically forfeit candidature for admission to the Institute.
About DEI:
The Dayalbagh Educational Institute is a Deemed University under Section 3 of the University Grants Commission Act, 1956 as per Notification No. F.9-3/78-U-3 dated 16.5.1981 issued by the then Ministry of Education & Culture, Government of India.
The Institute has six faculties, viz., Arts, Commerce, Education, Engineering, Science and Social Sciences besides a Technical College and a centre offering certificate level modular programmes.